Bifold Mens Leather Wallets
The Top 25 Best Bifold Wallet Options of 2023
In a world where wallet options abound, finding the perfect one can be an overwhelming task. From slim and sleek designs made from unique materials, there's no shortage of choices to suit your personal style and needs. But how do you know which wallet is truly the best for you? Here we will guide you through the top 25 best bifold wallet options of 2023, exploring various materials, designs, and price points to help you make an informed decision.
Not only will we present you with a curated list of the best slim wallet choices, but we'll also delve into the world of leather wallets, discussing the benefits of full-grain and veg tan leather. We'll weigh the pros and cons of RFID protection and explore wallet storage capacity to help you find the right balance between a slim design and functionality. And if you're looking for something out of the ordinary, we've got you covered with unique designs and materials, as well as customizable options.
So buckle up and join us on this journey through the realm of bifold wallets, where we'll showcase top brands, innovative features, and wallet options for every budget. By the end of this post, you'll be well-equipped to make an informed decision and find the perfect wallet to accompany you through 2023 and beyond.
Best Bifold Wallets Insights
Its important to consider factors such as storage capacity, RFID protection, and personalization when choosing the perfect wallet for you. It's not just about the style or the brand, it's about finding one that suits your style and meets your needs for card slots. With designs that cater to a wide range of preferences and needs, from sleek, slim models to robust leather options we can help you find the best bifold.wallet.
Lastly, don't forget that maintaining your wallet's quality over time is just as crucial as the initial purchase. Regular cleaning and conditioning can extend the lifespan of your wallet, ensuring it remains a reliable and stylish companion for years to come.
So, let's dive in and explore these top-notch wallet options together. We'll help you have a clear understanding of what to look for in an only wallet and be well-equipped to make the best choice for your 2023 wallet upgrade.
This article provides a comprehensive list of the top 25 bifold wallets for 2023, with options ranging from a thin bifold wallet to leather goods with a bill compartment, and some with only two card slots.

Consider factors such as storage capacity, RFID protection, budget and personalization when selecting the right wallet.

Regular cleaning and conditioning is essential for maintaining your wallet's quality over time.
The Ultimate Guide to The Top 25 Bifold Wallets of 2023
Welcome to our comprehensive guide to the top 25 bifold wallets of 2023. In this guide, we will be delving into an array of options, each with their unique features, designs, and materials. We will be covering slim wallet choices, leather wallets, offerings with RFID blocking protection, and more. Our aim is to provide you with an in-depth understanding of what each option has to offer, helping you to make an informed decision based on your personal style, needs, and budget.
Sleek Design Matters in a Card Wallet
Whether you're a fan of minimalist designs or prefer a more classic leather look, we've got you covered. We will be exploring more wallets made from a range of materials, including top grain Spanish leather and vegetable tanned, as well as unique and innovative designs for those who like to stand out from the crowd.
The Best Slim Wallets for your Front Pocket
Card holder storage capacity is an important consideration, for both card slots and cash pockets. While a slim design can be appealing, it's also important to ensure that your wallet can comfortably accommodate all of your essential items. We'll be providing insights into how to strike the right balance between design and functionality, helping you to find a wallet that not only looks great but also meets your needs.
Finally, we'll be showcasing some of the top brands in the wallet industry, highlighting their innovative features and top-notch quality. From well-established names to up-and-coming brands, we'll be giving you a glimpse into the best that the wallet industry has to offer.
Top 10 Slim Bifold Wallets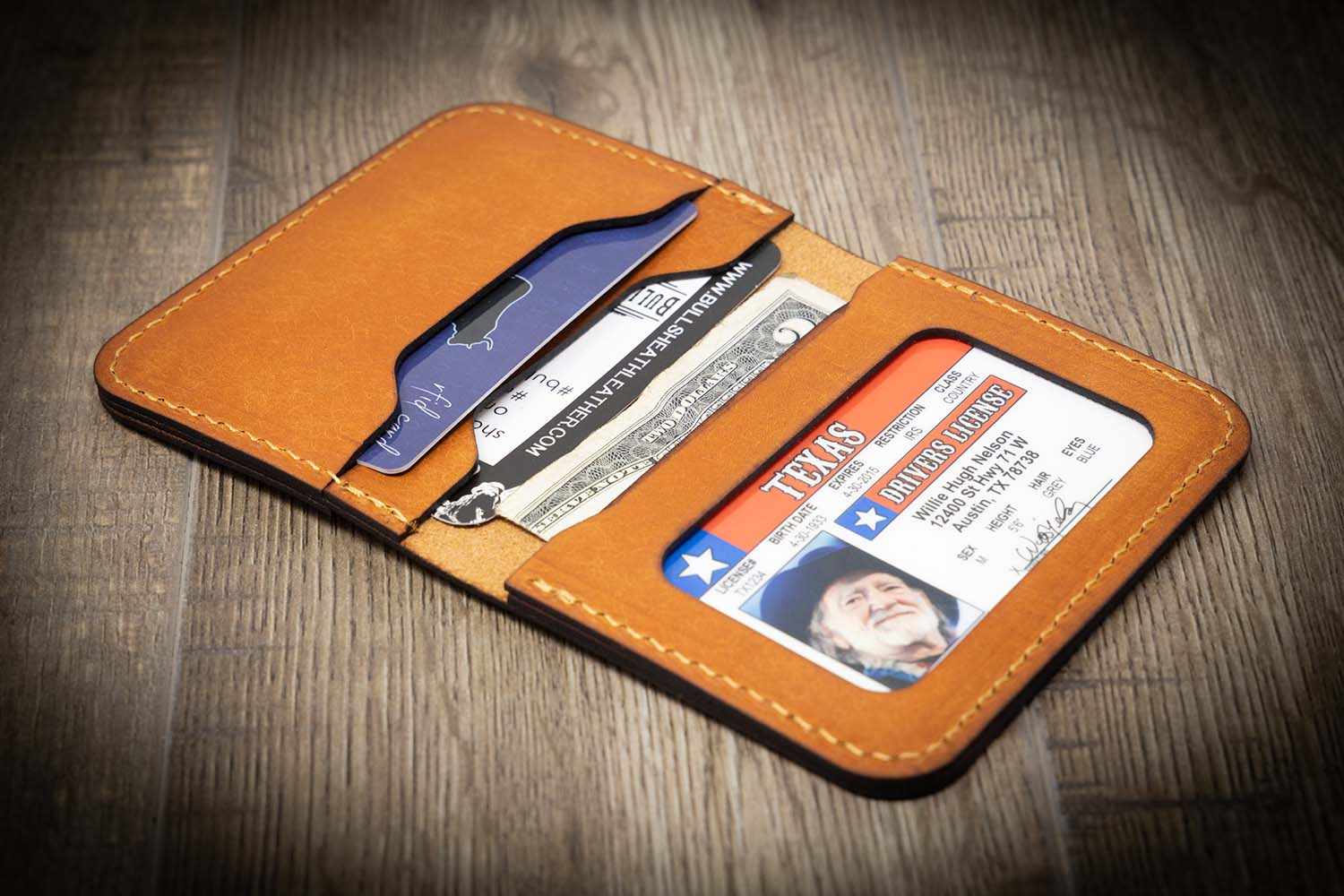 Slim wallets with cash pockets have been gaining popularity in recent years, and for good reason. These minimalist wallets not only look stylish but also provide comfort, helping you avoid back pain from carrying a bulky wallet in your back pocket. What makes the cut for the top 10 slim bifold wallets of 2023? Based on aesthetic appeal, usability, comfort, and storage capacity, we've curated a list to help you make the best choice.
This slim wallet offers a perfect balance between style and function, ensuring you can carry your essential cards and cash without sacrificing comfort.
Maintain your slim wallet's pristine condition by following these straightforward tips: keep it clean and dry, avoid overstuffing it, and replace it when it starts to show signs of wear and tear. By adhering to these guidelines, your wallet will remain a reliable and stylish companion for years to come.
Leather Wallets: Classic Style and Durability
Leather has long been the material of choice for quality, and for good reason. It offers durability, a timeless look, and versatility in both design and function.
Let us delve into the advantages of two commonly used types of leather in bifold wallets: full-grain and vegetable tanned. We'll also present you with our top leather bifold wallet picks, showcasing options that cater to a variety of styles and budgets. So whether you're looking for a classic bifold or a slim leather wallet with unique features, we've got you covered.
Full-Grain Leather
Full-grain leather is derived from the outermost layer of the hide and preserving all of its natural grain. Renowned for its:
Strength

Aesthetic appeal

Durability

Luxurious feel
Full-grain leather offers a quality that only gets better with time. Wallets made from full-grain leather, such as the Bull Sheath Leather Georgetown Wallet, can be considered among the best slim bifold wallet options.
Advantages of High Quality Leather
The advantages of full-grain leather are numerous. It's resistant to wear and tear, ensuring your wallet will last for years, if not decades. Plus, its natural grain lends a unique and sophisticated appearance to your wallet, making it a truly one-of-a-kind accessory.
Looking for a full-grain leather wallet? The Bull Sheath Leather Big Bend Bifold Wallet is a worthy consideration. It's not only stylish but also offers the durability and longevity you expect from a high-quality leather wallet.
Veg Tan Leather Wallet
Vegetable-tanned leather is another popular choice for bifold wallets. Created through a distinctive process that utilizes the strength of natural tannins, this type of leather is known for its robustness and longevity. It's also environmentally friendly, as the tanning process relies on natural materials like tree bark, leaves, and fruits.
One of the most appealing characteristics of vegetable-tanned leather is its unique patina that develops over time. As the leather ages, it takes on a rich and distinctive appearance that sets it apart from other materials, making it a popular choice for those seeking a slim bifold wallet with a touch of individuality.
Brace yourself for a slightly extended break-in period as the leather gradually softens and develops its distinctive patina. However, the wait for the soft leather is well worth it, as you'll be left with a wallet that not only looks and feels great but is also built to last.
Top Leather Bifold Wallet Picks
With the plethora of leather bifold wallet options available, settling on the right one can pose a challenge. To make your decision easier, we've handpicked a selection of top leather bifold wallet options that cater to various preferences and budgets.
Some of our top picks for a Bifold Wallet include:
The Rio Grande Bifold Wallet

The Big Bend Bifold Wallet

The Georgetown Slim Wallet

Amarillo Slim Thin Bifold Leather Wallet
Each of these options is crafted from high-quality leather and offers a range of practical features and unique designs to suit your needs.
Whether you're searching for a traditional leather bifold with a timeless appeal or a slim leather wallet with innovative features, our top leather bifold wallet picks are sure to help you find the perfect accessory for your everyday carry needs.
RFID Blocking: Is It Necessary?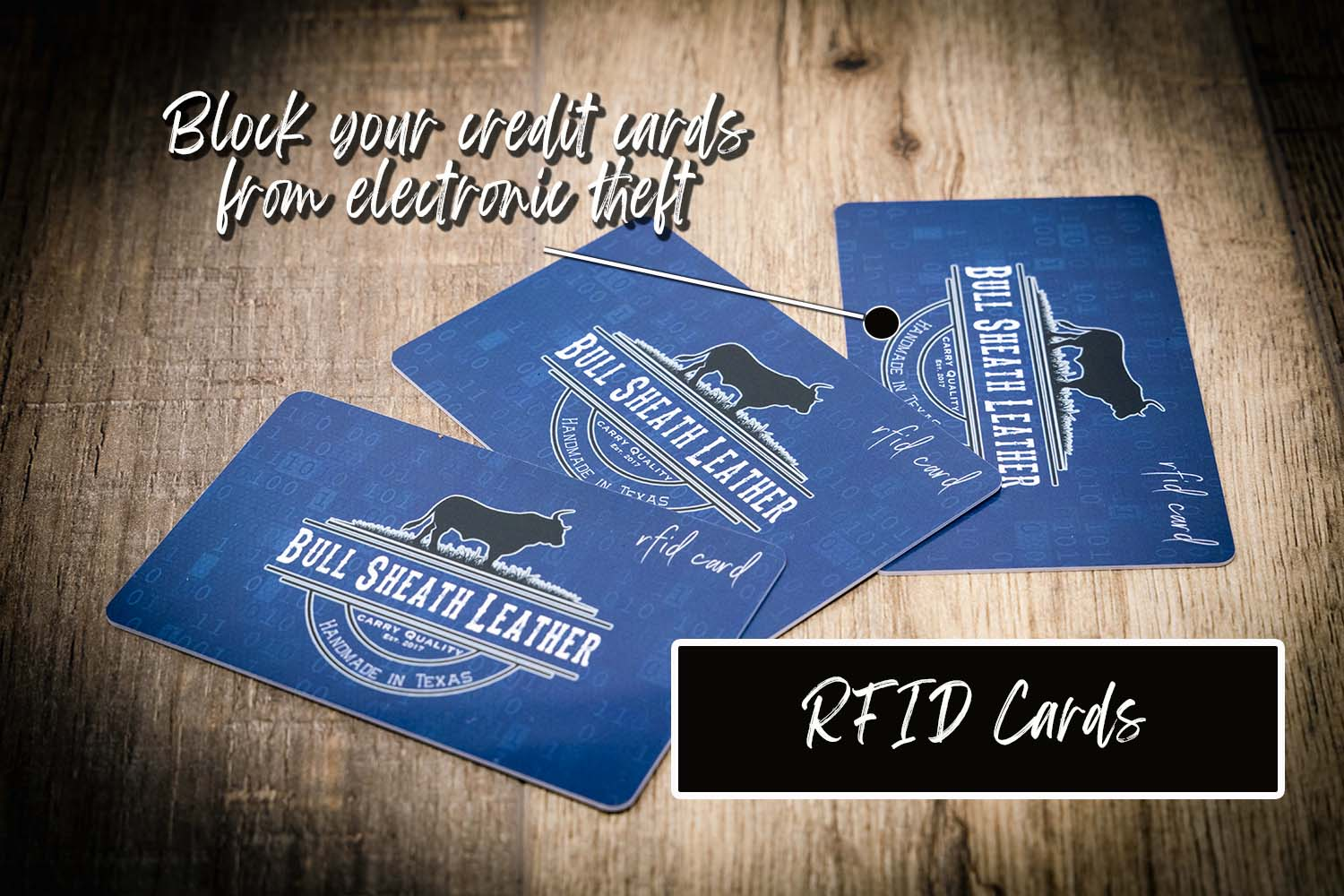 In an increasingly digital world, the security of your personal information is more important than ever. This has led to the rise of RFID blocking technology, which aims to shield your credit cards and other RFID-enabled devices from being skimmed by hackers. On one hand, RFID blocking can offer peace of mind, helping to safeguard your wallet from potential threats.
Ultimately, the decision to invest in a wallet with RFID blocking protection comes down to personal preference. If you feel that the added security is worth the potential trade-offs, then it might be the right choice for you.
Wallet Storage Capacity: Finding the Right Balance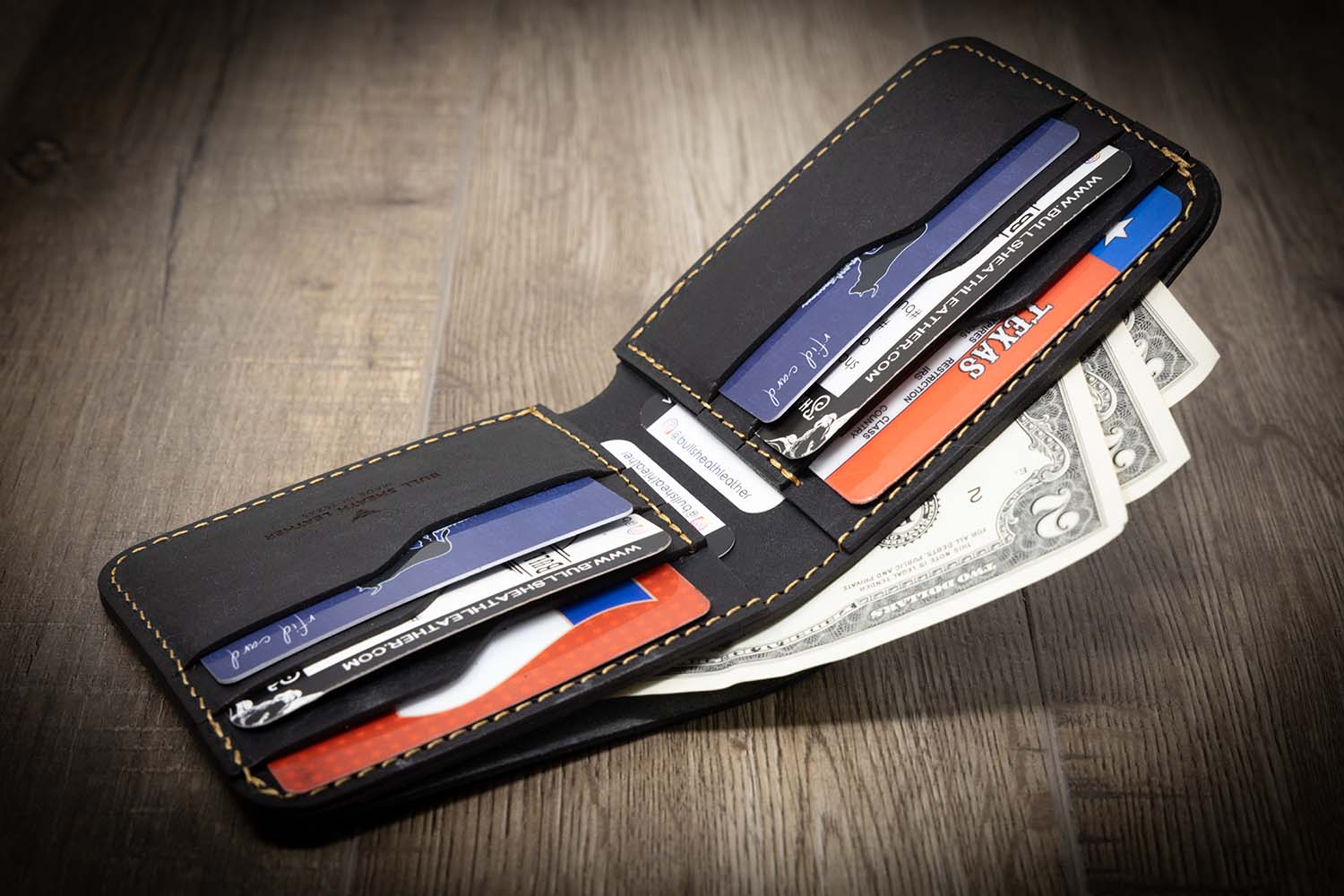 When it comes to wallets, storage capacity is a crucial factor to consider. After all, you want a wallet that can comfortably accommodate your cards, cash, and other items without becoming too bulky or cumbersome. How can you strike a balance between storage capacity and size? Exploring various wallet types and their storage capacities can guide your informed decision.
The Best Bifold Wallets Feature Card Slots
Bifold wallets are generally more compact than trifold wallets, making them a popular choice for those seeking a slim wallet and stylish option. For example, the Georgetown slim leather wallet features a slip pockets for cash or loose change and one outer slots for credit cards. On the other hand, Big Bend Bifold Wallets offer more storage space with six card slots, two vertical pockets, and a cash pocket wallet. When it comes to the best bifold wallets, these two options are worth considering.
Judging Card Slots for Yourself
In the end, it's essential to assess your individual needs and select the wallet that best meets your requirements. Whether you're looking for a minimalist wallet with just enough room for the essentials or a larger slim billfold wallet to accommodate your growing card collection, there's a perfect option out there for you.
Unique Designs and Materials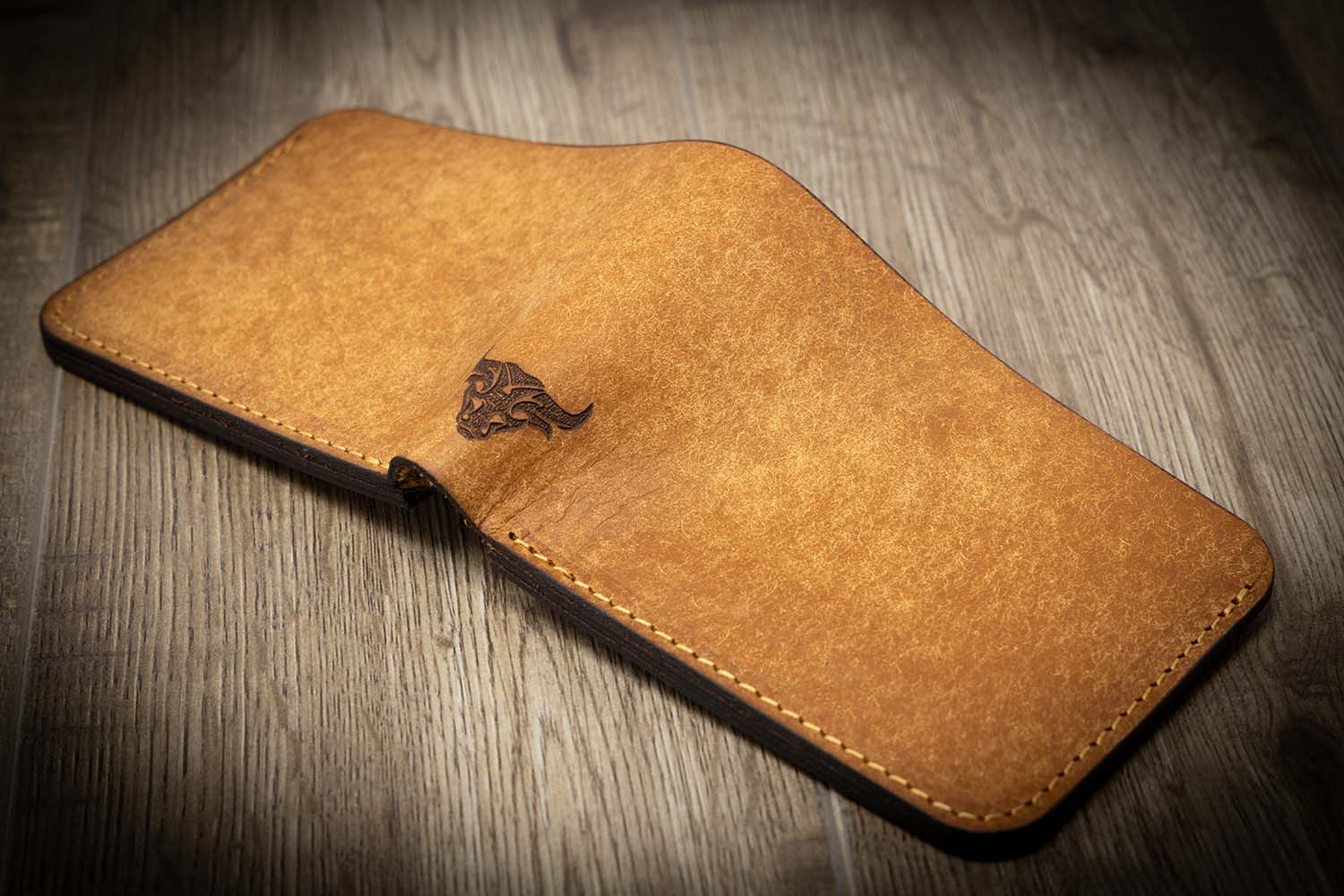 Take, for example, the Rio Grand Bifold in Brandy Leather, which showcases leather technique. This slim wallet not only offer a refreshing alternative to traditional leather bifolds but also provides a slim design with ample storage capacity, making it an excellent choice for those seeking a thin bifold wallet.
Wallets for Different Budgets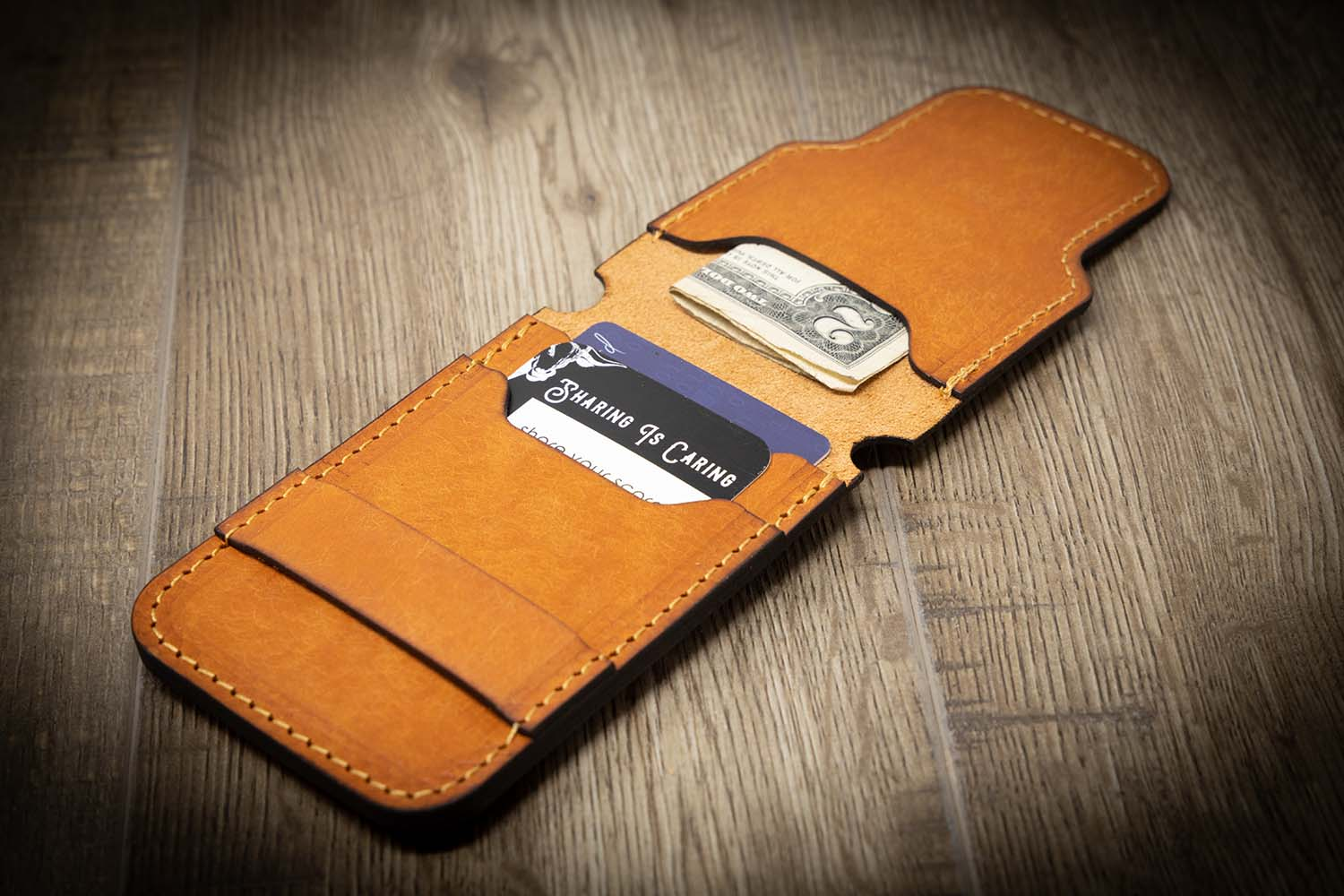 Your wallet is not just a functional accessory – it's also a reflection of your personal style and budget. With a broad range of options, it's vital to choose a wallet that caters to your needs and fits your budget. In this section, we'll explore wallet options for different budgets, from affordable picks to high-end luxury choices.
No matter your budget, there's a wallet out there that perfectly suits your needs and preferences. From affordable finds to indulgent splurges, the possibilities are endless when it comes to finding the perfect wallet for 2023 and beyond.
Travel-Friendly Bifold Wallets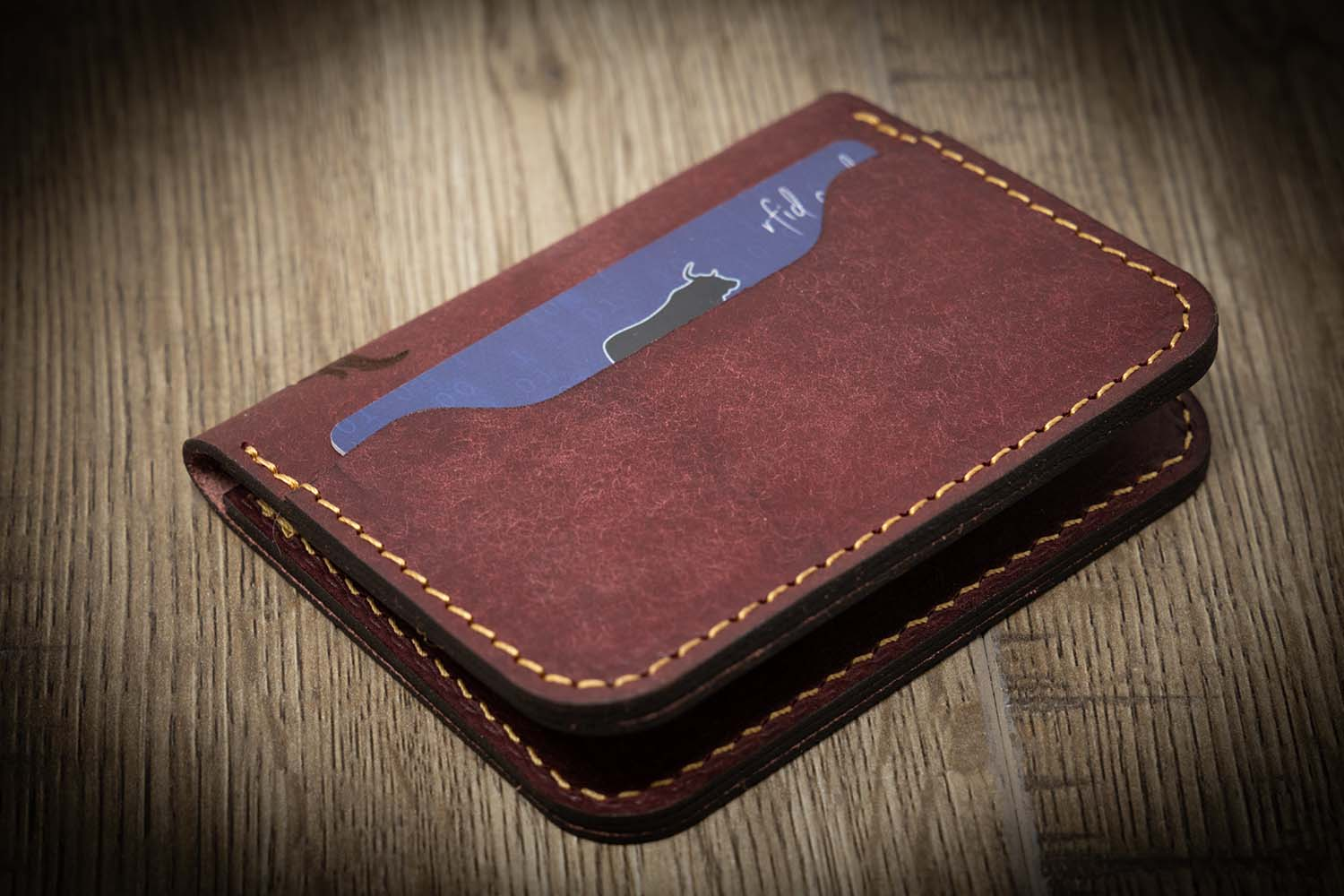 A travel-friendly wallet becomes a necessity when you're constantly on the move. These wallets offer features like RFID blocking card, card holder, and secure storage with pull tab, ensuring that your personal belongings stay safe and organized while you're away from home. In this section, we'll present a selection of travel-friendly bifold wallets to help you find the perfect travel companion.
Travel Card Holder with Quick Access slot
As you embark on your next adventure, consider investing in a travel-friendly bifold wallet that offers the perfect balance of safety, style, and function. With the right card holder by your side, you'll be free to focus on making unforgettable memories and exploring new horizons.
Wallet Brands to Watch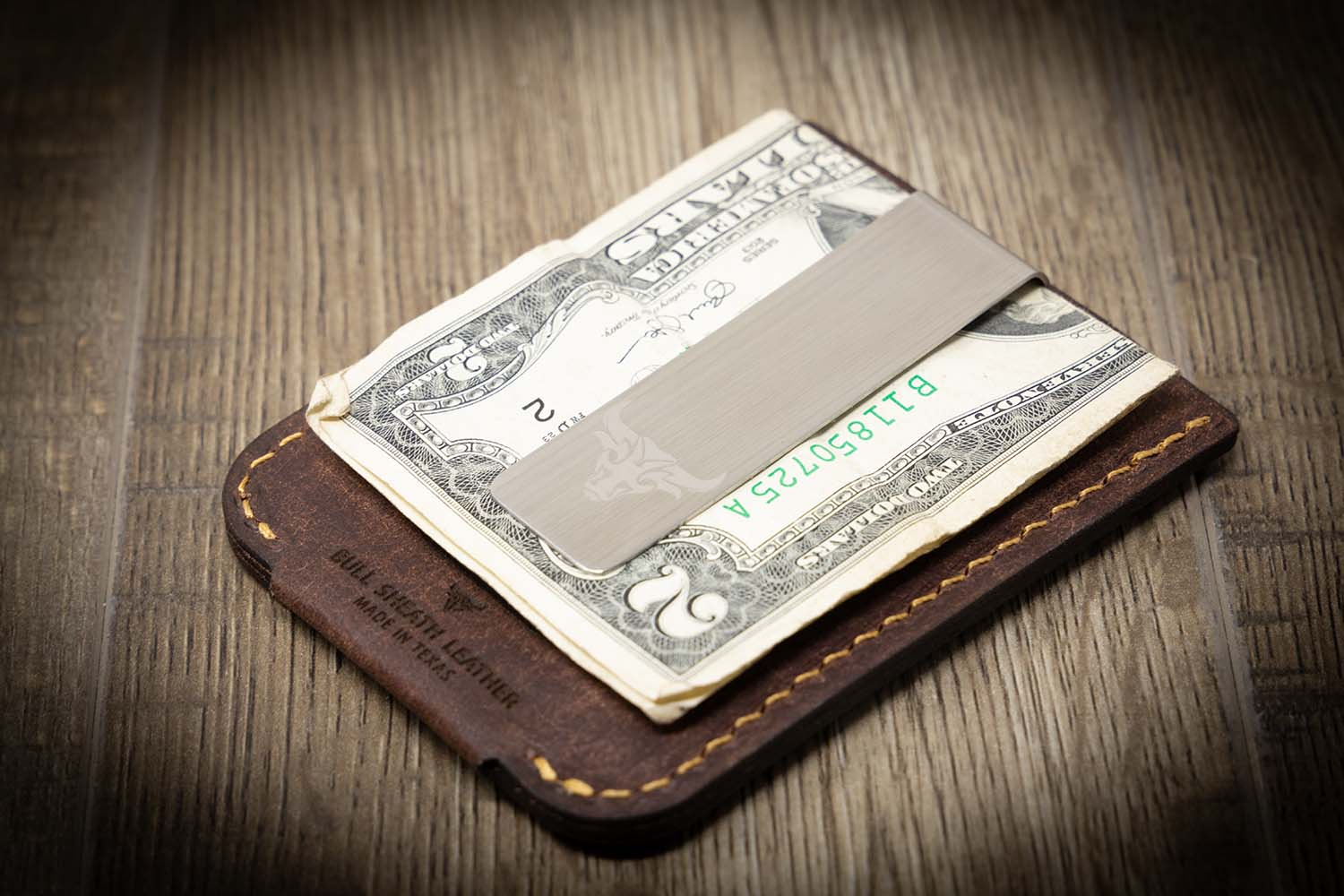 In the realm of wallet design, innovation reigns supreme, with numerous emerging brands offering distinctive and avant-garde features. In this section, we'll shine a spotlight on some wallet brands to watch, showcasing their innovative designs and materials that set them apart from the competition.
Your Everyday Carry Doesn't Have to be an Expensive Wallet
One such brand is Bull Sheath Leather, which offers sleek and modern wallets crafted from high-quality genuine leather. We are known for our customizable bifold wallets featuring a wide selection for monogramming or engraving.
As you explore the world of wallet brands, keep an eye out for those that push the boundaries of design and functionality. Our innovative brand is sure to impress with our unique offerings and commitment to quality, making Bull Sheath Leather a worthy addition to your list of wallet options.
Customizable Bifold Wallet
Occasionally, a unique wallet is all you need to showcase your personal style and make a distinct impression. A customizable bifold wallet, which offers options like monogramming and personalization services, allow you to create a wallet that's truly unique to you.
Monogram Your Thin Bifold Wallet
For example, each of the Bull Sheath Leather Wallets offers a personalized monogram option, allowing you to add your initials or a meaningful symbol to your card holder. This gives you the freedom to create personalized leather goods that reflects your individual tastes and preferences.
If you're searching for a slim wallet that truly stands out and represents your personality, consider opting for a customizable bifold wallet. With a variety of personalization options at your fingertips, you'll be able to create a wallet that's uniquely yours and serves as a stylish and functional accessory for years to come.
Maintenance Tips for Your Bifold Wallet
A wallet is more than just a purchase; it's an investment that, with the right care and maintenance, can serve you for many years. By keeping your wallet clean, dry, and well-maintained, you'll ensure that it continues to look and function at its best. In this section, we'll offer some tips for maintaining and caring for your bifold wallet.
Cleaning Your Pocket Wallet
First and foremost, it's crucial to clean your wallet on a regular basis. Use a damp cloth and mild soap to gently wipe away dirt and grime, taking care not to saturate the leather or other materials. Additionally, it's essential to condition the leather with a leather conditioner to maintain its softness and suppleness.
Protect Your Trifold Wallet
When it comes to storage, keep your wallet away from direct sunlight and heat, as these can cause the material to fade and deteriorate over time. Instead, store your wallet in a cool, dry place, and avoid exposing it to water or other liquids. Finally, practice proper usage habits by avoiding overstuffing your slim wallet and replacing it when it begins to show signs of wear and tear.
Searching for the Best Slim Wallets
We've explored the top 25 best bifold wallet options for 2023, delving into various styles, materials, and price ranges to help you find the perfect wallet for your needs. For the best slim wallet and minimalist wallet designs, there's an option for everyone, regardless of your preferences or budget.
We've also discussed important features like RFID protection, wallet storage capacity, and unique designs and materials, providing you with the information you need to make an informed decision. And if you're looking for something truly unique, consider customizable choices or up-and-coming brands that offer innovative designs and features.
As you embark on your quest for the perfect card holder, remember that finding the right balance between style, function, and budget is key. With the information and recommendations provided in this blog post, we're confident that you'll be well-equipped to find a wallet that not only meets your needs but also serves as a stylish and reliable accessory for years to come.
Frequently Asked Questions
Is a bifold wallet good?
Bifold wallets are an excellent choice for those who need a supply of emergency cash, or for kids and teenagers who are just starting to use them. They offer a traditional style and are great for carrying in one's pocket. Bifold wallets are a great way to keep your money safe and secure. They are also slim and lightweight, making them easy to carry around. They come in a variety of colors and styles, so you can find one that suits your needs
Do bifold wallets hold cash?
Yes, bifold wallets typically have a pocket for cash and receipts, making them ideal for holding paper currency. It's important to have quick access to your cash.
What is the difference between a billfold and wallet?
A wallet is a flat case that holds money and credit cards, while a billfold is a larger, thicker wallet designed to hold bills. A billfold is generally thinner than a wallet and has fewer slots for cards, making it ideal for carrying in the front pocket or back pocket of your jeans.
What is the thinnest wallet ever made?
The Bull Sheath Leather Pflugerville is our smallest slim wallet, and is a perfect front pocket wallet that is and alternative to a regular minimalist wallet. It boasts tight stitching and a card holder with a cash slot that is ultra slim.
 Why Are Men's Thin Wallets Better Than Regular Wallets?  Click to find out!
Check out these Blog Posts!