The 20 Best Bifold Wallet Front Pocket Wallets of 2023
Best Mens Wallets 2023
The wallet you choose speaks volumes about your style, organization, and even your priorities. With a myriad of options out there, finding the perfect bifold wallet front pocket may seem like a daunting task. Fret not! This comprehensive guide will walk you through the best bifold wallets of 2023, helping you find the perfect one that fits your needs, whether it's style, functionality, or sustainability.
Short Summary
Front pocket wallet for men: Bifold wallets are an ideal choice for front pocket use due to their slim profile and convenient access.

Best Mens Wallets 2023: Quality bifolds should offer RFID-blocking technology, durable materials, and a comfortable fit in the pocket.

Mens Front Pocket Wallet: Options include leather wallets with innovative features plus eco-friendly options for sustainable consumers.
Why Choose a Bifold Wallet for Your Front Pocket?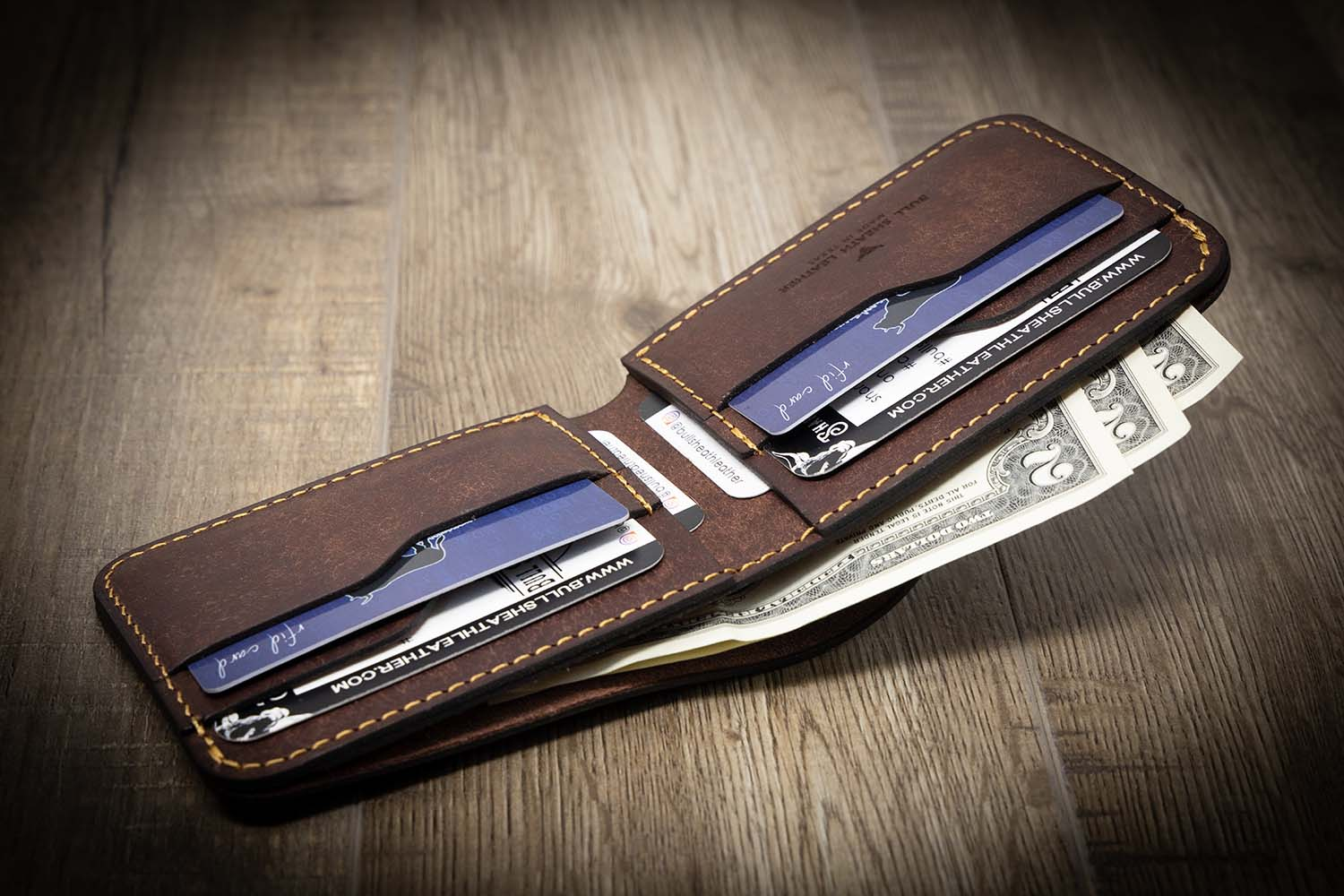 Gone are the days when bulky wallets were the norm. Today, slim wallet and sleek designs are taking over, and for good reason. Bifold wallets are a popular choice for "front pocket wallets for men" use, thanks to their slim profile, convenient access to cards and cash, and the ability to accommodate more items than other wallet designs. Bifold wallets offer a perfect blend of aesthetic appeal, convenience, comfort, and ample storage capacity.
With options like the Herschel Charlie Wallet, which has four card slots, or the Bosca Old Leather Front Pocket Wallet, featuring a built-in money clip and three card slots, you can easily find a wallet that suits your needs. Minimalist wallets, such as the Slimfold Micro Tyvek Wallet, can hold up to 15 cards while maintaining an extremely thin profile.
On the other hand, the Dun Wallet, with its unique triangular leather overlay, offers just enough space for a few cards and bills without a cash sleeve, keeping its depth at a mere 0.59 inch when filled.
Ultimately, the best front pocket wallets provide easy access to cards and cash without adding unnecessary bulk. With a bifold wallet, you'll enjoy the convenience of carrying your essentials in a slim and stylish package that won't weigh you down.
Essential Features of a Quality Bifold Front Pocket Wallet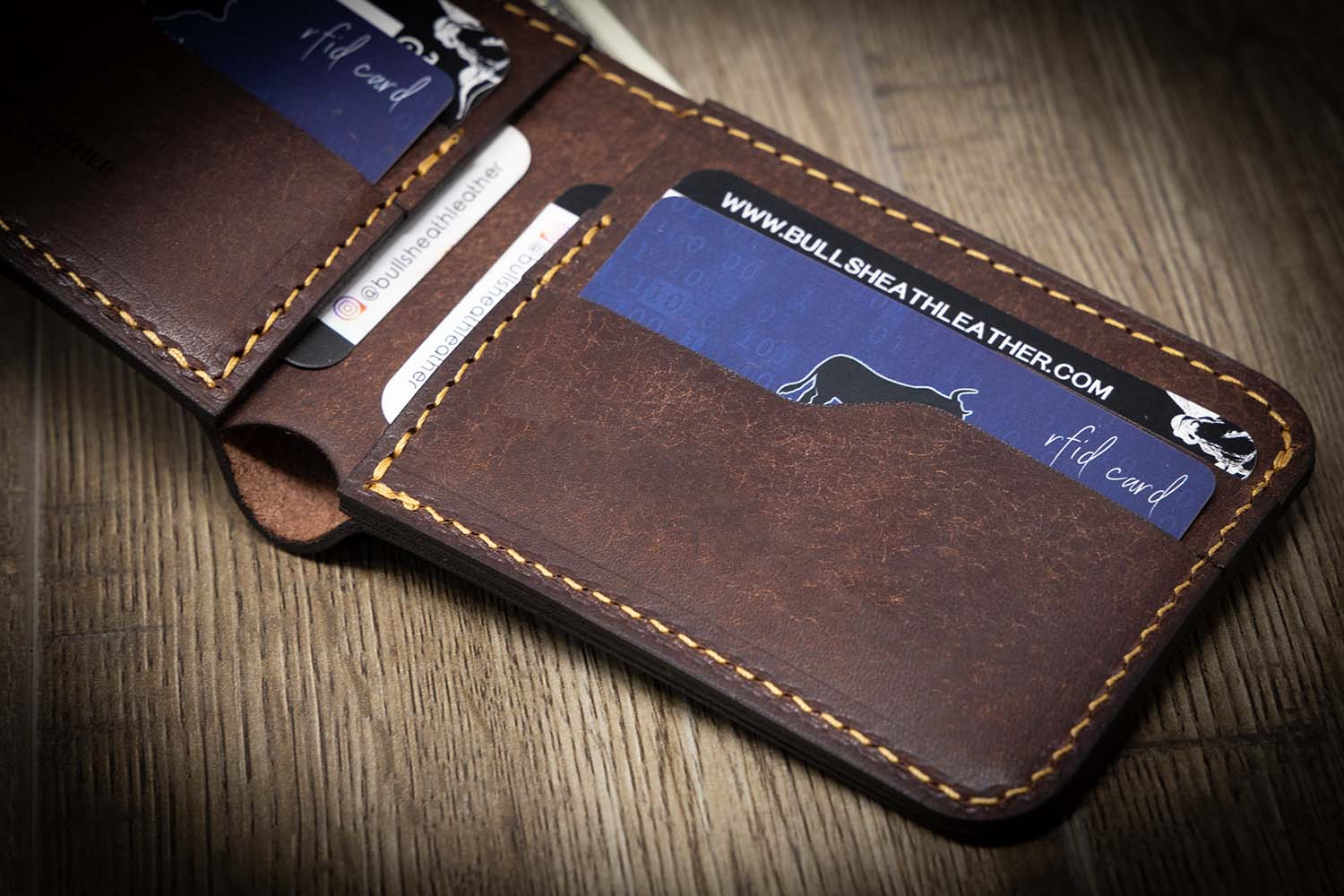 When it comes to choosing a quality bifold wallet, there are a few essential features to look for. First and foremost, the wallet should be constructed of durable materials, pocket wallet leather, such as full-grain leather or marine-grade polyester continuous filament thread. These materials not only ensure longevity but also add a touch of sophistication to your everyday carry.
Another important feature to consider is RFID-blocking technology. This technology prevents radio-frequency identification (RFID) from being used to steal your credit card data. With the rise in digital theft, RFID-blocking technology is essential for ensuring the safety of your data when stored in a front pocket wallet.
A good bifold front pocket wallet should also be slim enough to comfortably fit in your front pocket without creating unnecessary bulk. It is recommended that a front pocket wallet should be under three quarters of an inch thick. The Slimfold Micro Tyvek Wallet, for example, is the smallest bifold wallet suggested and still offers ample storage capacity.
By focusing on these essential features, you can rest assured that you are making a smart investment in a quality bifold wallet that will not only look great but also serve its purpose for years to come.
Top Leather Bifold Wallets for Front Pockets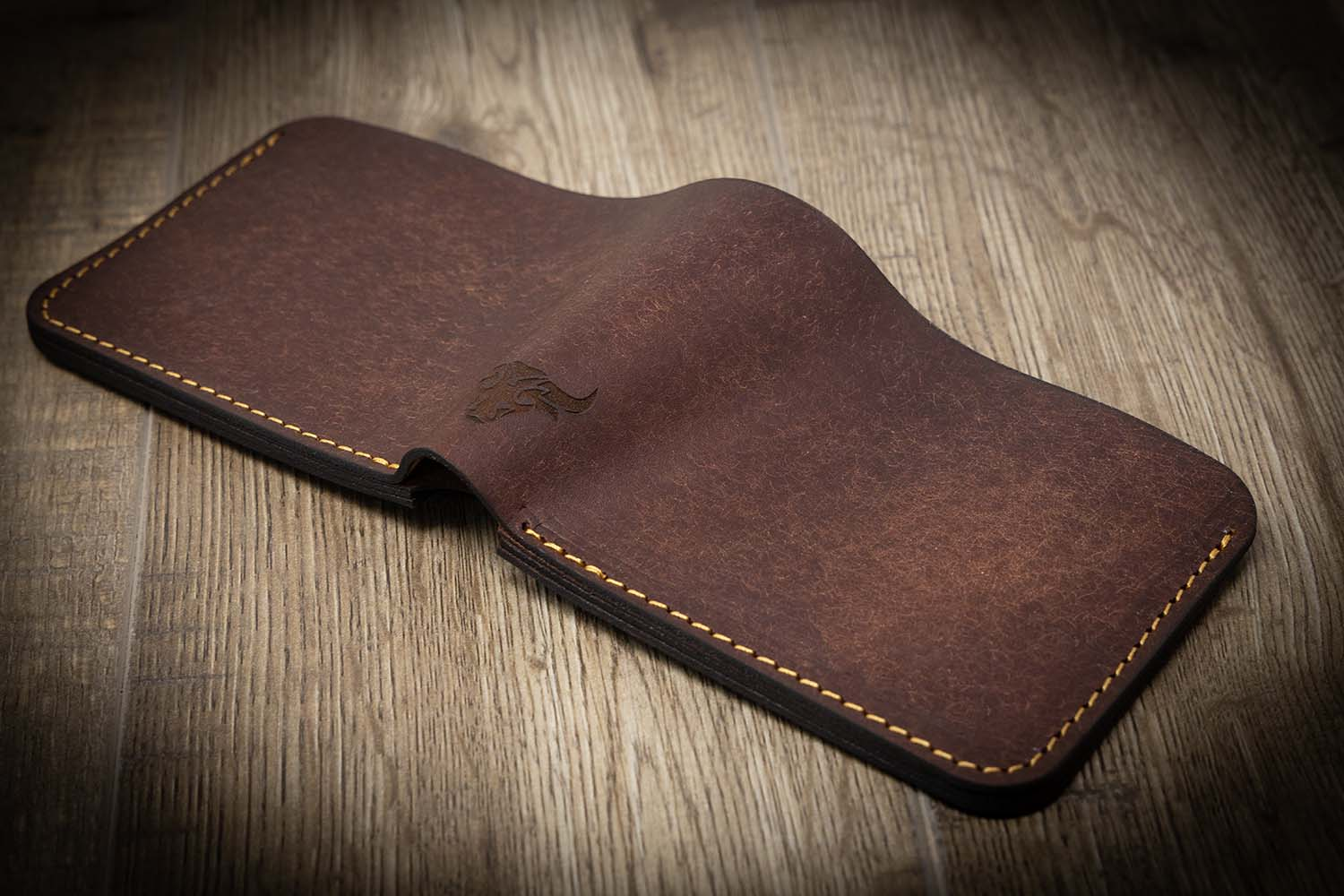 If you're looking for a top-quality leather bifold wallet, there are several options to choose from. The Georgetown Sleeve Wallet, for example, is crafted from premium leather and can hold up to eight cards and some cash. It also features a pull-tab for quick access to the center compartment's contents.
Another top contender is the Wally Micro Wallet, which boasts a sleek design and offers the capacity to carry as much as a thicker wallet, without taking up too much space in your front pocket. The Spine Minimalist Wallet, crafted from high-quality leather, features a unique design that can accommodate up to 10 cards and some cash, making it a great option for those who need a bit more storage capacity.
The Tanner Goods Journeyman Wallet, made from high-quality Saddle Tan leather, and the Filson Front Pocket Cash & Card Wallet, constructed of vegetable-tanned bridle leather, are also excellent choices for those seeking a durable and stylish leather bifold wallet for their front pocket.
Innovative Bifold Wallets with Unique Features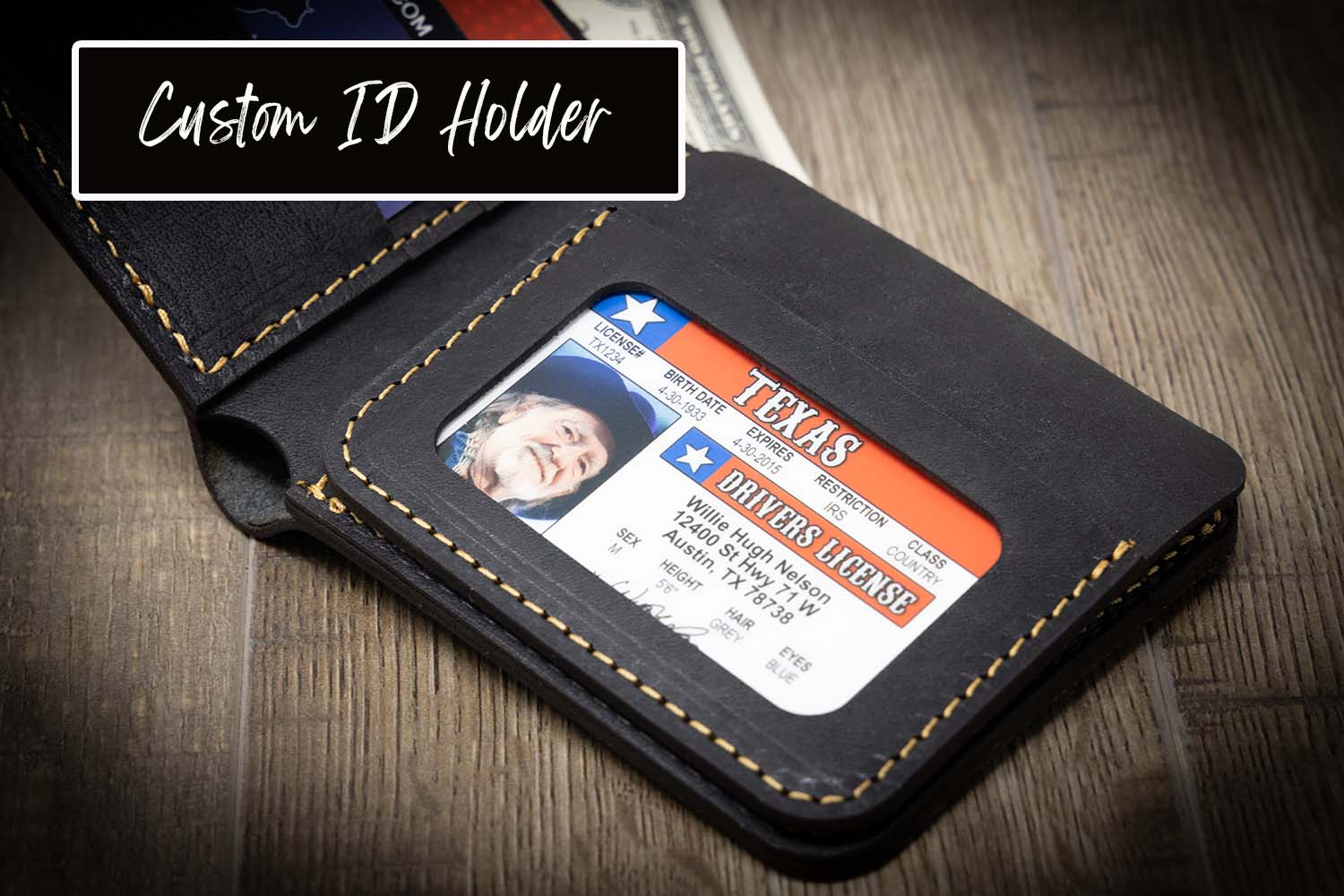 Innovation and uniqueness are the hallmarks of some of the best front pocket wallets. For instance, the Rogue Front Pocket Wallet features a distinct curved design that conforms to the shape of your front pocket, while the Trayvax Armored Summit Wallet offers RFID-blocking technology and a heat-resistant steel plate for added protection. Bull Sheath Leather offers the Georgetown leather wallet features a pocket ID wallet.
The WP Standard Small Card Wallet, crafted from full-grain leather, also boasts RFID-blocking technology, making it an ideal choice for those seeking both style and security. The Colonel Littleton No. 33 Front Pocket Wallet, constructed from full-grain leather, features a slim design and RFID-blocking technology to keep your cards secure while fitting comfortably in your front pocket.
The Wally Bifold Wallet, made from full-grain leather and equipped with RFID-blocking technology, offers a unique feature that enables the storage of up to four cards without having to open the wallet. This innovative design allows for convenient access to cards and cash without sacrificing style or functionality.
Best Budget-Friendly Bifold Wallets for Front Pockets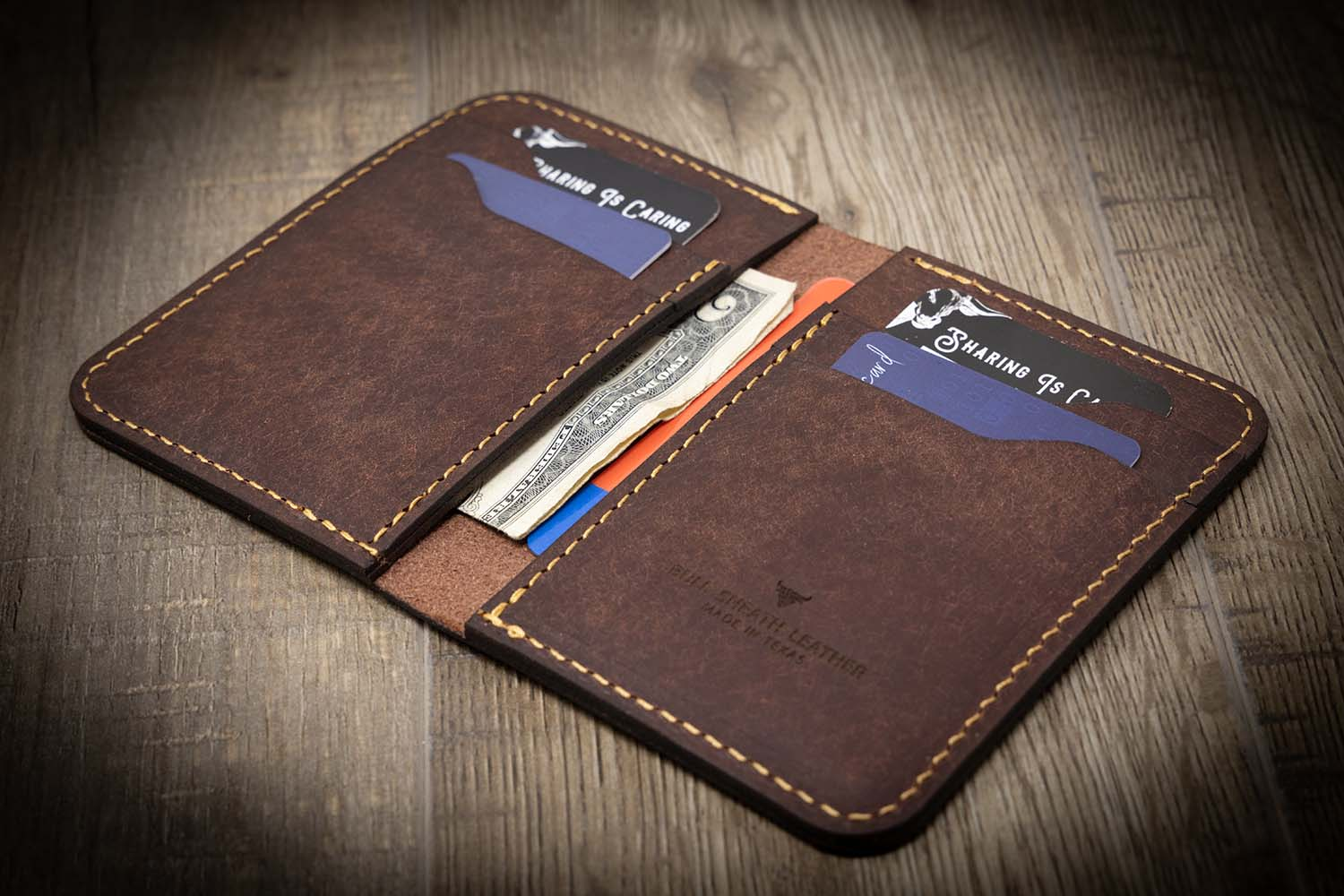 Quality and affordability can go hand in hand when it comes to bifold wallets for front pockets. The Shinola Slim Bifold Wallet, for example, is a premium wallet crafted with the same attention to detail and quality as all Shinola products, while still being budget-friendly.
The Ridge Minimalist Wallet, constructed with a combination of aluminum and elastic, is known for its excellent durability and stylish Whiskey Brown hue, without breaking the bank. The Bellroy Slim Sleeve Wallet also offers a sleek design and premium leather construction at an affordable price point.
For those who want a touch of ruggedness without spending a fortune, the Dango D01 Dapper Wallet, made of silicone, leather, and stainless steel mil-spec bolts, is an excellent choice. Similarly, the Dango A10 Adapt Single Pocket Wallet, crafted from machined 6061 aerospace-grade anodized aluminum, offers both scratch-resistance and water-resistance, making it a durable and budget-friendly option.
Bifold Wallets for Travelers: Functionality and Security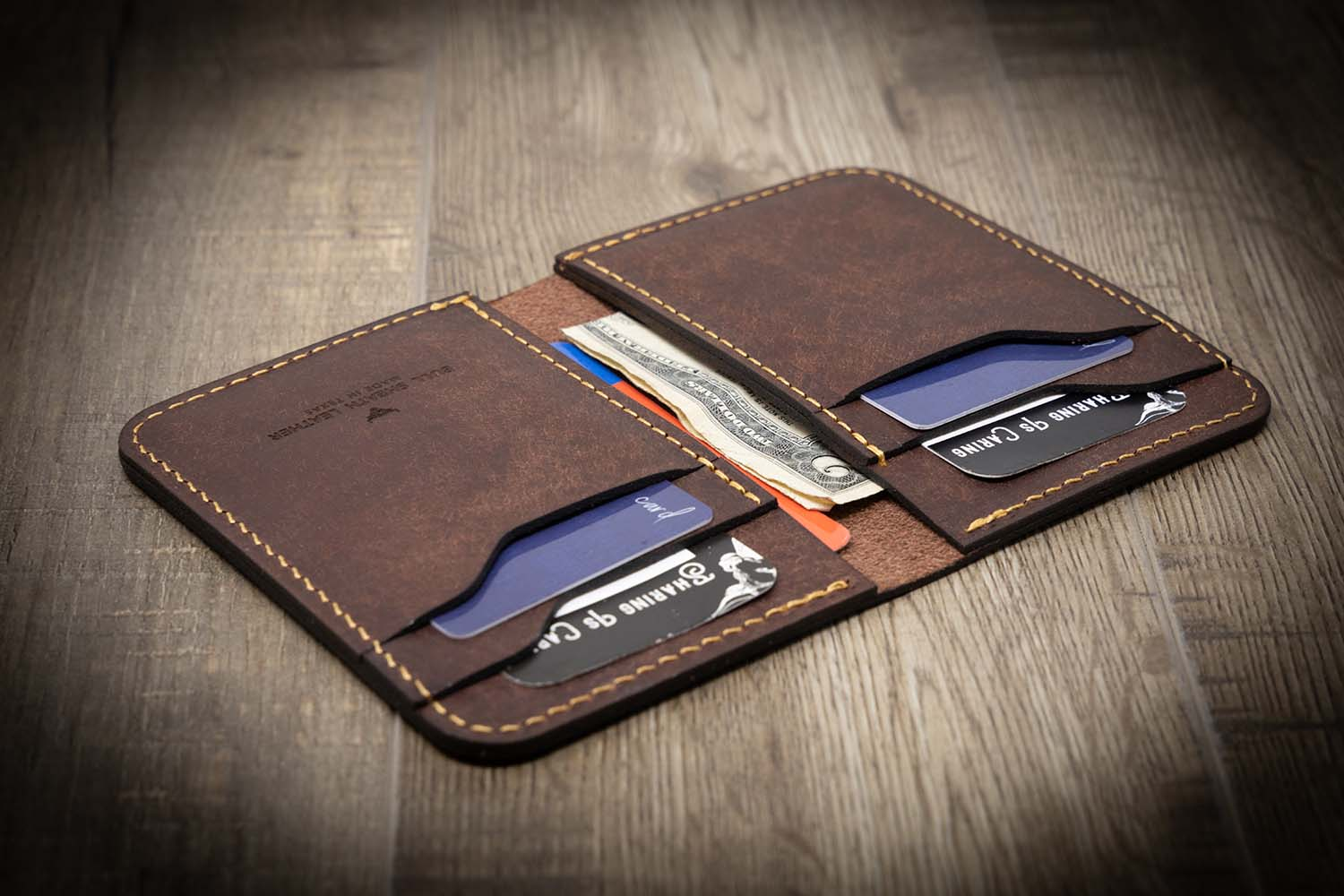 Travelers require wallets that offer functionality and security, as well as the ability to withstand the rigors of constant movement. The Tyler wallet, designed to accommodate up to ten cards and crafted from full-grain genuine leather, is a great option for travelers seeking style and practicality.
Filson Rugged Twill Outfitter Card Wallet, equipped with six card slots and made from vegetable-tanned leather and weatherproofed twill, ensures your belongings stay safe and dry during your travels. The Ekster Parliament Wallet, Bellroy Flip Case, and Pioneer Carry Molecule Cardholder Wallet all offer integrated RFID-blocking technology, providing an added layer of security while on the go.
These wallets not only cater to the specific needs of travelers, but also offer the assurance of protecting your valuables as you explore new destinations.
Caring for Your Bifold Front Pocket Wallet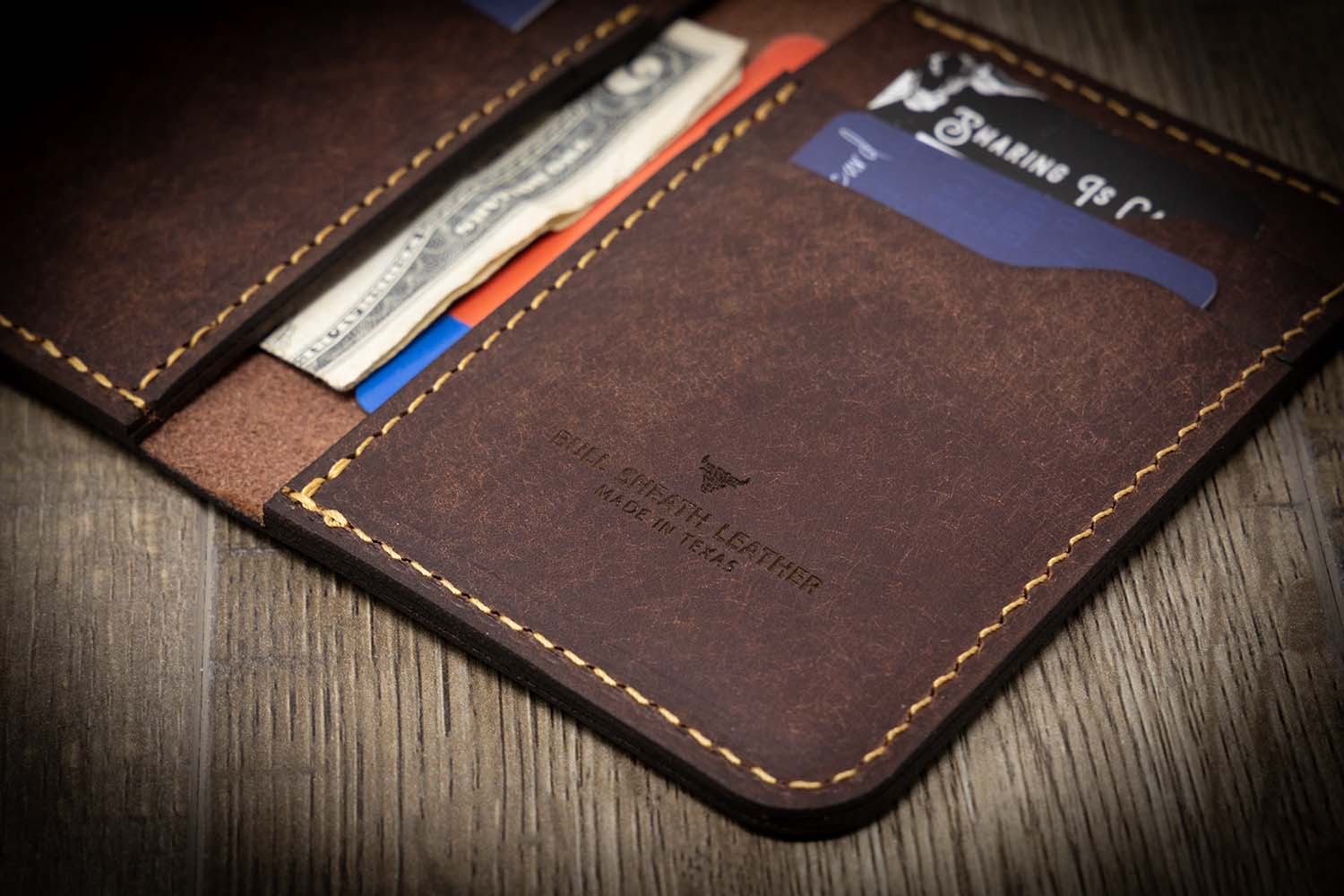 Maintaining your bifold front pocket wallet is essential for its longevity. To keep it clean, wipe down the exterior with a leather cleaner and condition it every six months. This will help maintain the wallet's appearance and prevent it from deteriorating over time.
To protect your wallet from water damage, keep it away from sources of moisture, such as rain, snow, and humidity. Additionally, store your wallet in a cool and dry environment to ensure it remains in optimal condition. By taking proper care of your wallet, you can enjoy its functionality and style for years to come.
Personalizing Your Bifold Wallet: Customization Options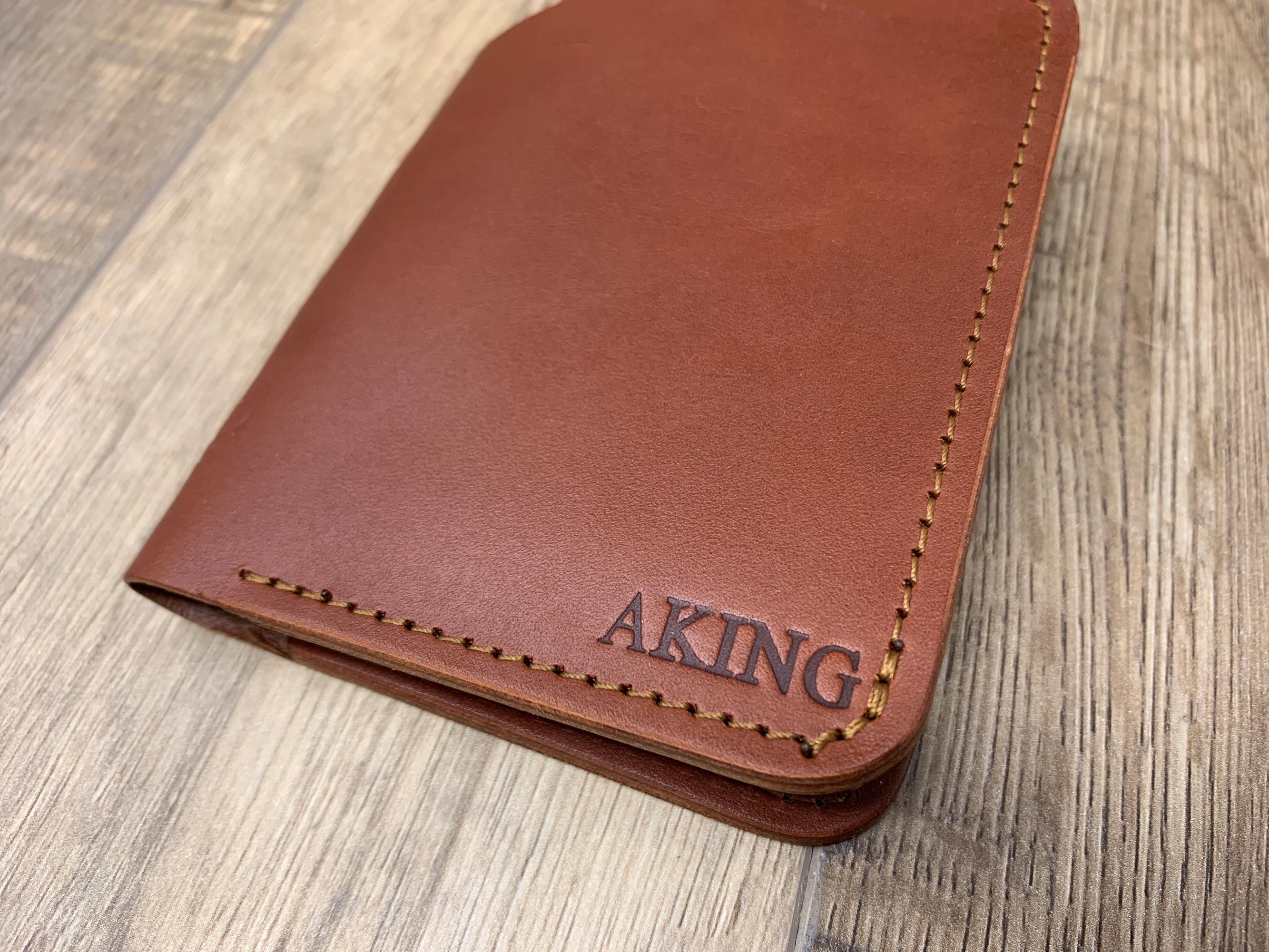 Personalizing your bifold wallet can make it truly unique and tailored to your preferences. Customization options include engraving, embossing, or adding patches with your name or initials. This personal touch can elevate your wallet from a simple accessory to an expression of your individuality.
Some wallet manufacturers also offer a selection of different colors or materials, allowing you to choose a wallet that matches your personal style. Furthermore, additional pockets or card slots can be included to increase the wallet's storage capacity and cater to your specific needs.
Another customization option is hand-etched leather, which features intricate designs or patterns manually engraved on the wallet's surface. This adds a distinctive touch to your wallet, making it stand out from the crowd.
Eco-Friendly Bifold Wallets: Sustainable Choices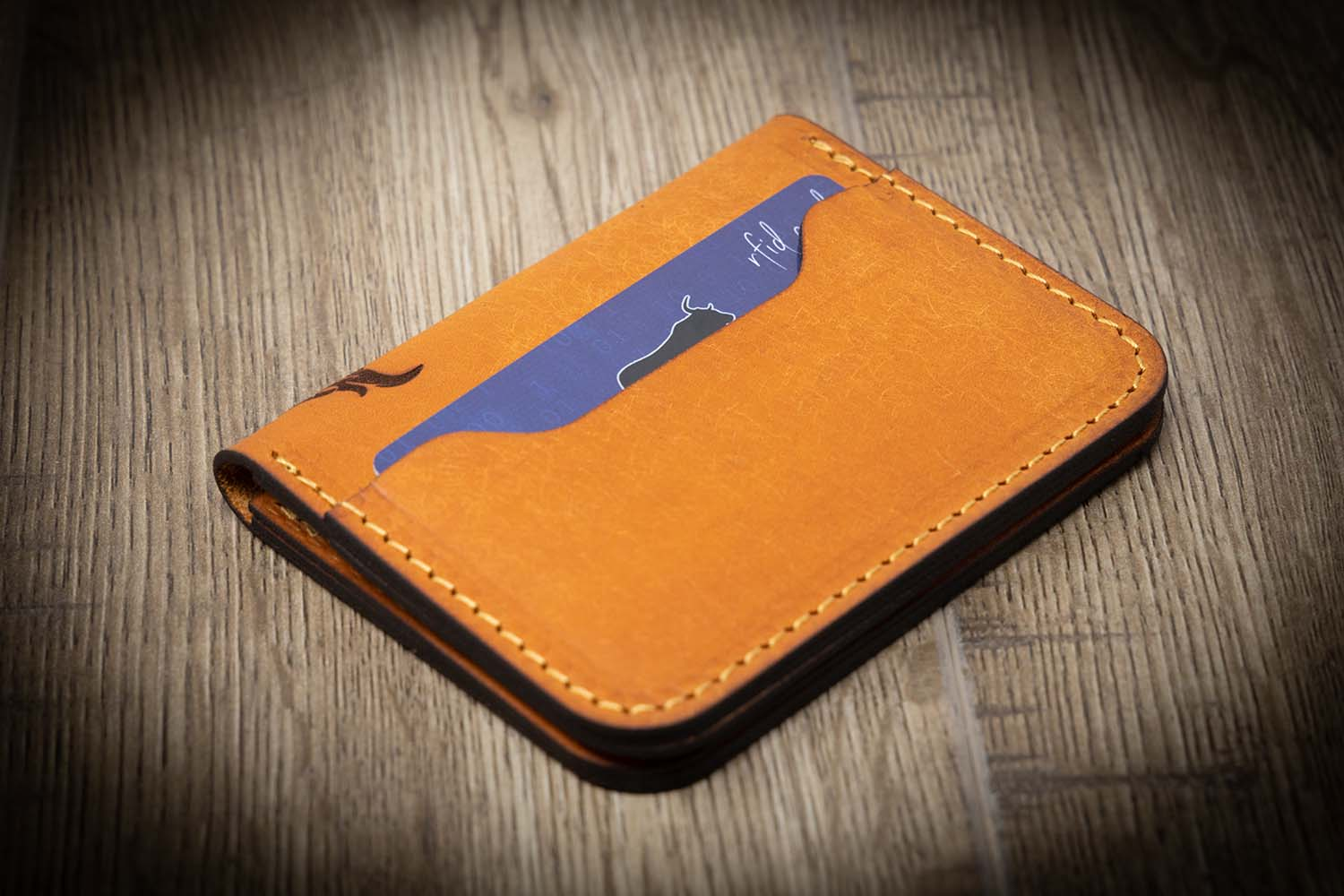 In today's environmentally conscious world, eco-friendly bifold wallets offer a sustainable alternative to traditional wallets. These wallets are made from sustainable materials like cork, hemp, and recycled plastic and are designed to last longer than their conventional counterparts. Popular brands like Bellroy, Corkor, and Elvis & Kresse offer eco-friendly bifold wallets that cater to the needs of environmentally conscious consumers.
By choosing an eco-friendly wallet, you not only invest in a durable and stylish accessory, but also contribute to the protection of our planet. Embracing sustainable choices, such as eco-friendly bifold wallets, is a small step towards a greener future and a responsible choice for the environmentally conscious consumer.
Summary
In conclusion, the best bifold front pocket wallets offer a combination of style, functionality, and durability. Whether you're seeking a premium leather wallet, an innovative design, a budget-friendly option, a travel-friendly wallet, or an eco-friendly choice, there is a perfect bifold wallet out there for you.
This guide has provided you with an overview of the top bifold wallets of 2023, along with essential features, customization options, and care tips. Armed with this knowledge, you're now ready to find the perfect bifold front pocket wallet that caters to your needs and suits your personal style.
Frequently Asked Questions
Should I carry my wallet in my front pocket?
Given the potential risks of carrying a wallet in your back pocket and the difficulty of accessing it while seated, it is highly recommended to keep your wallet in your front pocket for convenience and safety.
This is a much better option for both convenience and safety. It is easier to access your wallet while sitting, and it is less likely to be stolen or lost.
What is a front pocket wallet called?
A front pocket wallet is an essential item for anyone looking to travel light and enjoy the convenience of a minimalist wallet. It's also sometimes referred to as a minimal wallet, offering up the perfect solution for anyone who wants to downsize their carry.
This type of wallet is designed to fit into the front pocket of your pants or shorts, allowing you to keep your cards and cash close at hand without having to worry about a bulky wallet in your back.
How do I keep my credit card from breaking in my wallet?
To keep your credit cards safe from damage, it is essential to store them in a secure place. A good way to do this is by investing in a hard wallet. Hard wallets offer superior protection against cracking, bending, and breaking of cards.
Additionally, they are designed to easily fit into your pocket.
What does front pocket wallet mean?
A front pocket wallet is a slim and compact wallet designed to fit easily in your front pocket. It is often constructed from materials such as leather or nylon that make it lightweight yet durable, allowing you to keep all of your essential items close at hand.
What is a front pocket wallet called?
A front pocket wallet is a minimal wallet designed to reduce bulk while still being able to carry essential items such as cash and cards. It provides convenience without sacrificing functionality.
Check out these Blog Posts!
Why are men's thin wallets better than regular wallets?
---