The Best Men's Card Holder Wallets of 2023
In today's fast-paced world, a wallet is not just an accessory but a necessity that carries our essentials. Choosing the right men's card holder wallet can make a significant difference in everyday convenience and security. In this blog post, we'll guide you through the best men's card holder wallets in 2023, covering a wide range of styles, materials, and features to help you find the perfect match for your lifestyle and preferences.
Short Summary
This article covers the top men's card holder wallets of 2023, offering options for minimalists and those looking for durability and style.

RFID protection is essential when shopping for a card holder wallet to provide extra security against identity theft.

Consider factors such as size, capacity, design, functionality & comfort when choosing the right one according to lifestyle & preferences.
Top Card Holder Wallets for 2023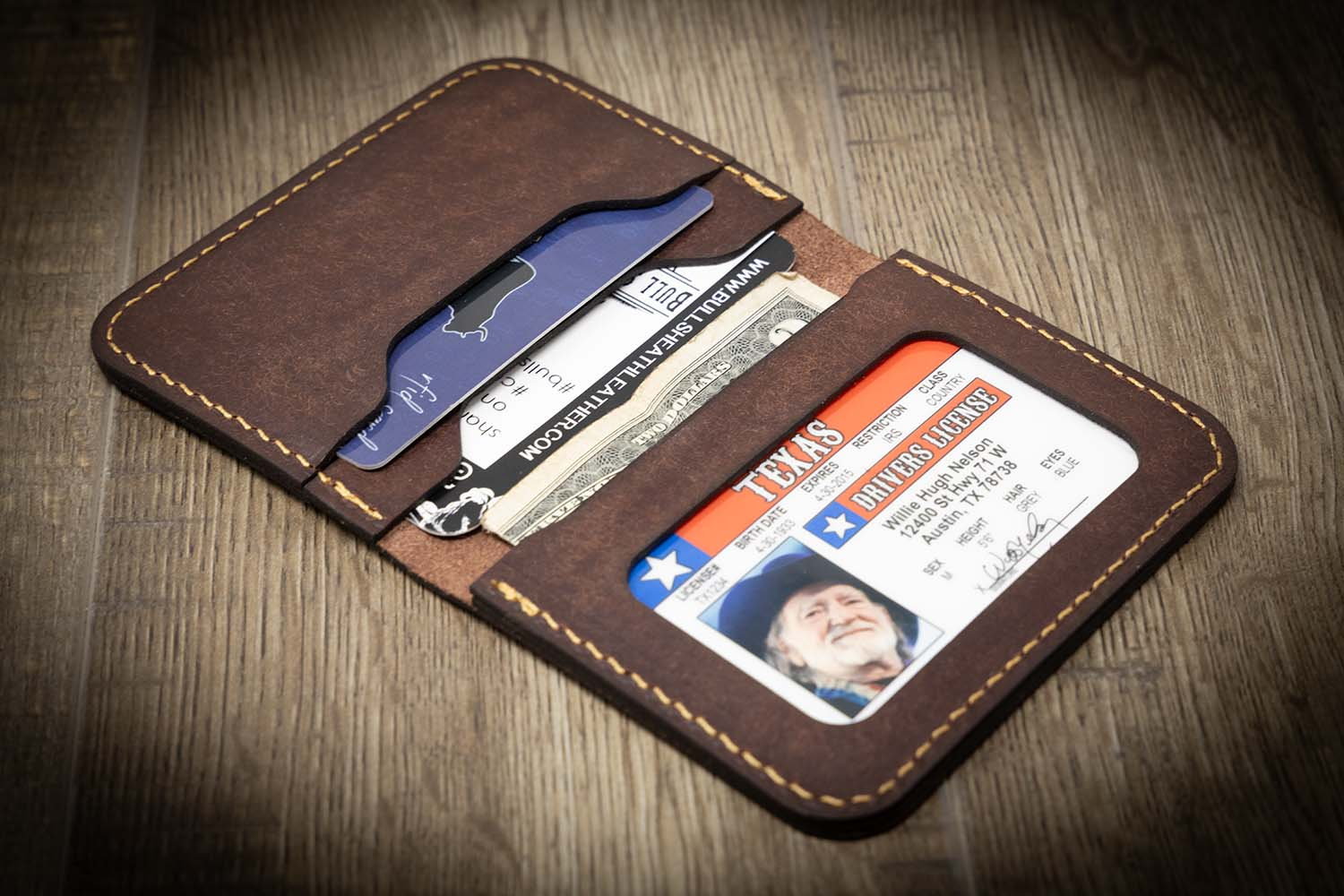 The quest for the perfect card holder wallet can be daunting, considering the plethora of options available in the market such as Mr Lentz and other wallets. Whether you're a minimalist who prefers slim wallets or someone who appreciates the durability of leather, there's a card holder wallet out there that can meet your needs and preferences.
In this section, we'll explore some of the best card holder wallets, including leather wallets, that cater to various styles and carrying capacities. The best cardholder for men starts with full grain leather.
Slim Wallets for Minimalists
Slim wallets are designed for minimalists who value a lightweight and compact carrying solution. These wallets offer a low-profile design, allowing you to comfortably store them in your pocket or bag without creating a bulky appearance. For example, the Georgetown gentlemen's slim wallet features a leather exterior, accommodating up to 10 cards.
Minimalist wallets prioritize functionality and aesthetics, ensuring that you can carry your essentials without any discomfort or misalignment risks. By opting for a slim wallet, you can avoid potential back pain caused by sitting on a bulky wallet and maintain a sleek, organized appearance.
Durable and Stylish Leather Card Holders
Leather card holders are known for their durability, style, and functionality. These wallets, available in colors like black, walnut, chestnut, and brandy. They offer a handsome and versatile choice for those who appreciate the timeless appeal of leather.
One example of a stylish leather card holder wallet is the Mansfield Card Wallet. The wallet offers three card slots and a center compartment for folded bills or additional cards, and an ID holder, making it a functional and attractive option for everyday use.
The Mansfield is a highly recommended premium leather card holder wallet.
Three-slot design

ID Holder

Cash slot

Sleek and distinctive

Perfect for everyday carry

Priced at $89

Combines style, durability, and functionality
This wallet is a worthwhile investment.
RFID Protection and Its Importance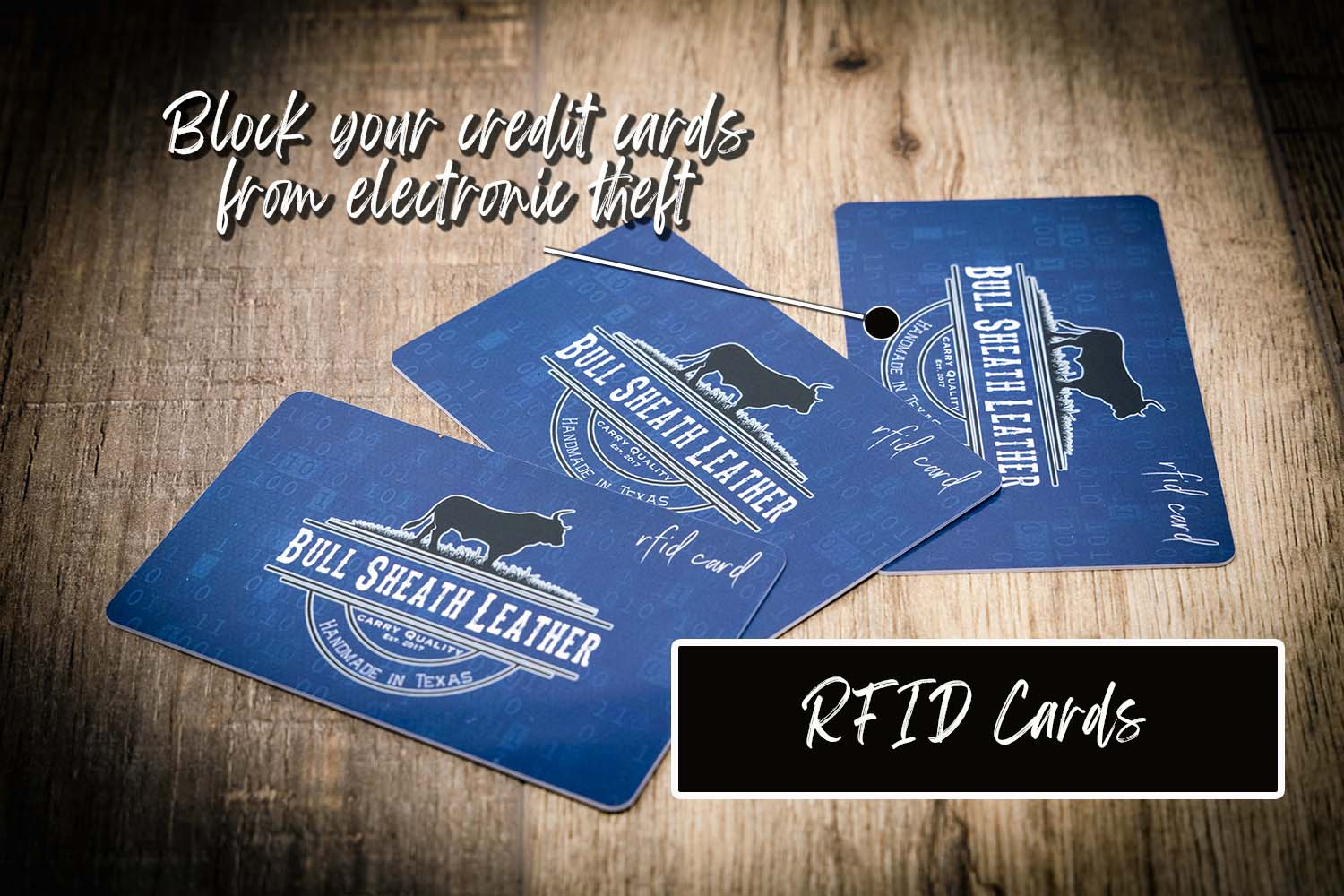 RFID protection in wallets is a crucial feature that shouldn't be overlooked. Radio-frequency identification (RFID) technology can be used to access data on your credit cards, potentially leading to identity theft. RFID-blocking wallets provide an extra layer of security, preventing unauthorized individuals from intercepting your data using inexpensive and easily accessible electronics.
While not all card holder wallets come with RFID protection, it is a critical feature to consider when shopping for a new wallet. Investing in an RFID-blocking wallet can save you from the potential stress and financial losses associated with identity theft.
In addition to RFID protection, it's essential to choose a card holder wallet made of durable materials, such as leather, to ensure longevity and dependability. By opting for a wallet that combines RFID protection and quality materials, you can carry your essentials safely and with peace of mind.
Customizable Card Holder Wallets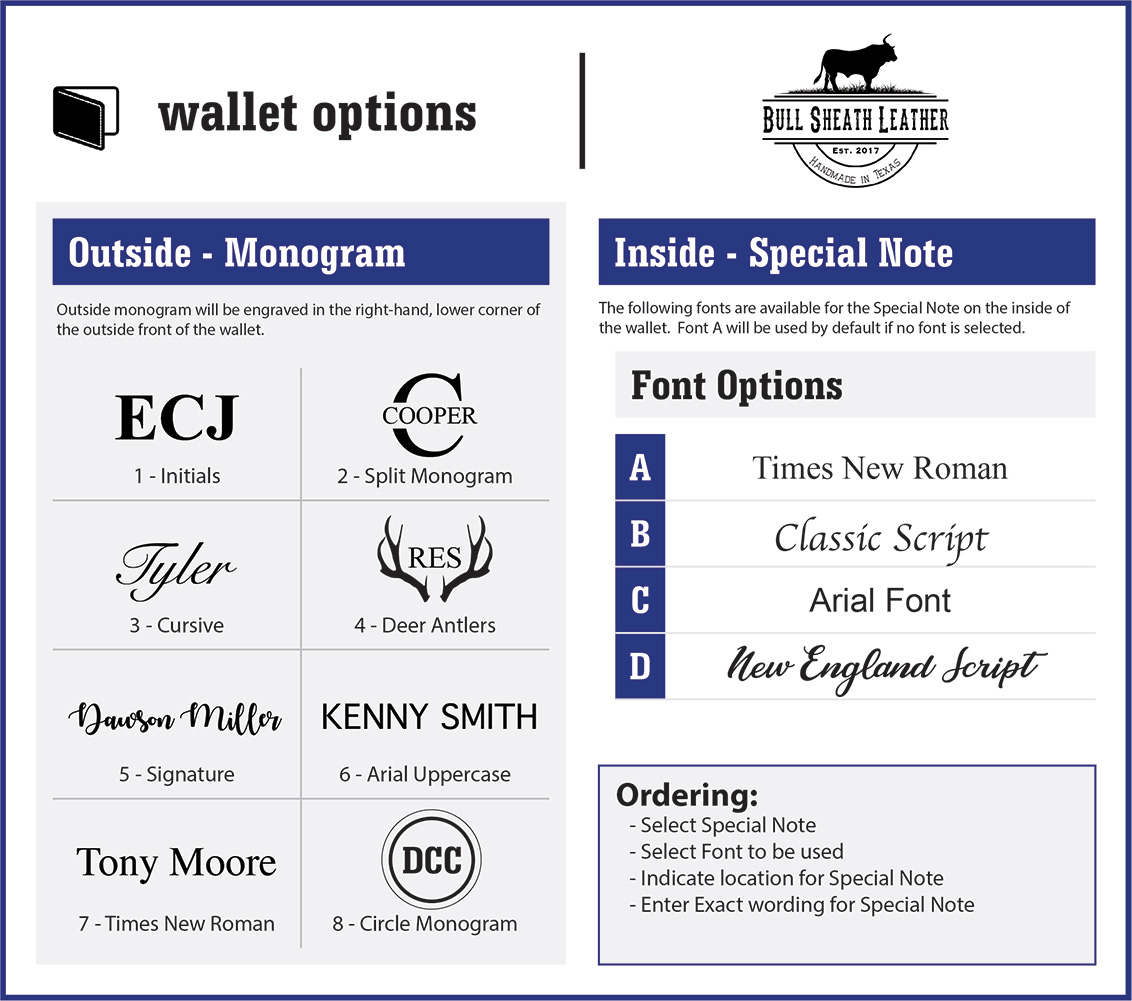 Customizable card holders wallets offer a personal touch to your everyday carry by allowing you to add monograms, initials, or other designs. These wallets provide:
A unique aesthetic

Practical organization

Compactness

Security for your cards and essentials.
In addition to customization options, some card holder wallets may include RFID protection and multiple card slots for added convenience and safety. By opting for a customizable card holder wallet, you can create a personalized accessory that caters to your style and functional requirements.
Versatile Wallets with Multiple Card Slots
Versatile wallets with multiple card slots are perfect for those who need to carry various cards and items daily. These wallets offer functional versatility, with features such as:
Removable card cases

Additional storage options

Contactless payment capability

Built-in card protection
This makes them a practical choice for everyday use, especially with the added convenience of a pull tab.
RFID protection is often included in these wallets, adding an extra layer of security against unauthorized scanning. By choosing a versatile wallet with multiple card slots, you can enjoy the benefits of durability, flexibility, and convenience, allowing you to carry your essentials with ease and confidence.
Card Holder Wallets with Unique Features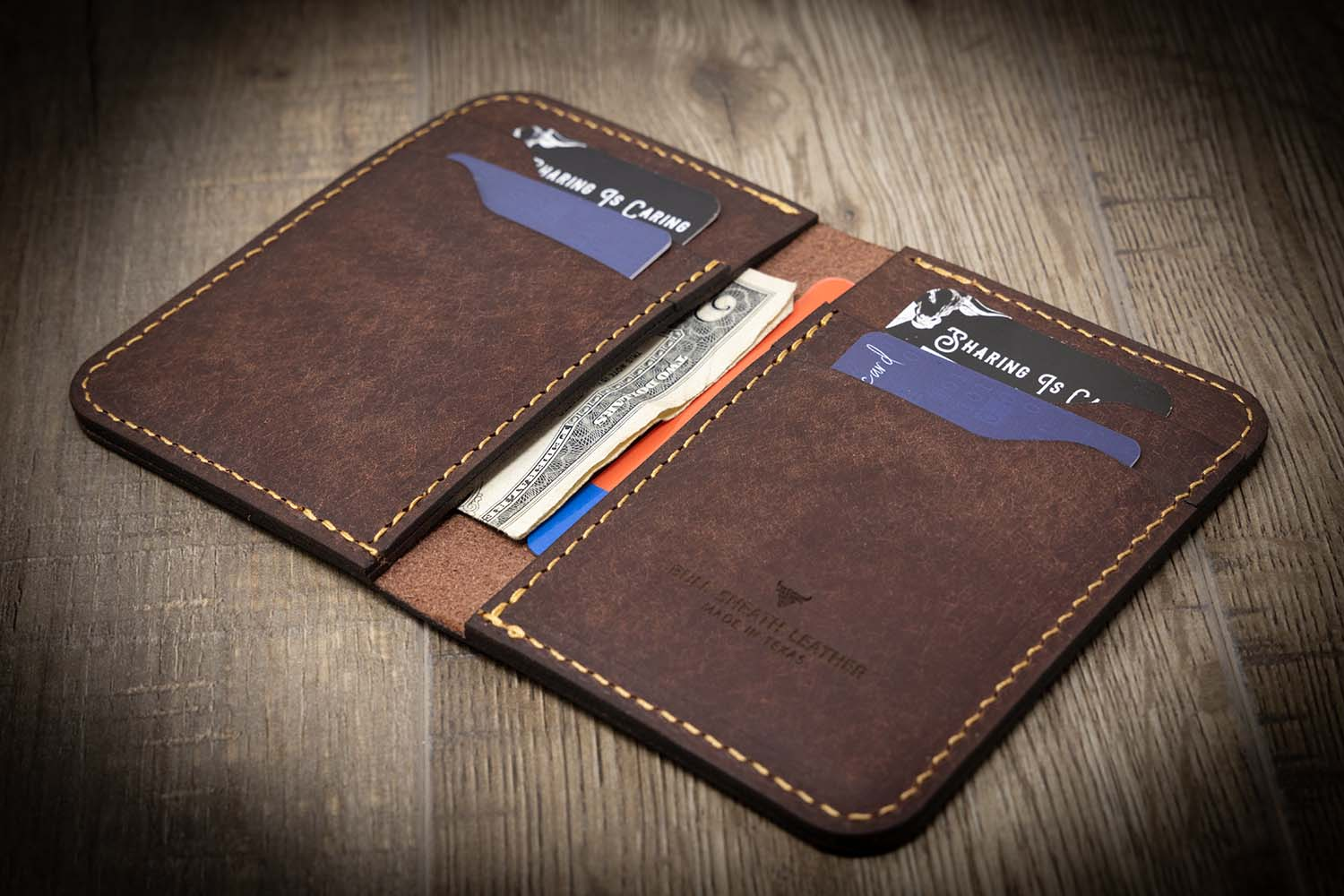 Innovative card holder wallets with unique features can add flair and practicality to your daily carry. Some wallets boast reversible designs, integrated key holders, or slim wallets with coin compartments, providing a distinct and functional solution for organizing your cards and essentials. Wondering how many cards these wallets can accommodate? The capacity varies depending on the design and style of the card holder.
Additionally, these leather wallets made in the USA can include RFID protection, ensuring that your cards and personal information remain secure. By opting for a card holder wallet with unique features, you can enjoy the benefits of a compact, practical, and stylish accessory that sets you apart from the crowd.
Choosing the Right Card Holder Wallet
Selecting the perfect card holder wallet can be a daunting task, given the numerous factors to consider, such as:
Size

Capacity

Durability

Design

Functionality

Comfort

Price
Personal preferences also play a significant role in finding the right wallet, as it should cater to your lifestyle and requirements.
RFID protection is another crucial aspect to consider when choosing a card holder wallet. With the increasing risk of identity theft, wallets with RFID-blocking technology can provide peace of mind and added security.
Customization is yet another factor that can help you find the ideal card holder wallet. Personalizing your wallet with a monogram or custom design can enhance its appeal and make it more tailored to your needs.
Our Selection Process and Criteria
Our selection process for the best men's card holder wallets in 2023 was thorough and comprehensive. We consulted with experts in the field, evaluated user reviews, and conducted product comparisons to determine the most suitable options available.
In selecting the top card holder wallets, we considered all features, including:
Card capacity

Overall design

Durability

Price

RFID-blocking capabilities
Our goal was to present a diverse range of options catering to various styles and preferences, ensuring that you can find the perfect wallet to suit your needs.
Summary
In conclusion, the world of card holder wallets offers a wide range of options, from minimalist slim wallets to durable leather card holders. With features like RFID protection, customization options, and versatility, you can find the perfect wallet to suit your lifestyle and preferences. By considering factors such as size, material, and personal preferences, you can confidently choose a card holder wallet that will serve you well for years to come.
Frequently Asked Questions
Which wallet is best for a man?
For the ultimate sleek look, a slim bifold or card holder wallet is ideal for men. These types of wallets reduce bulk in pants pockets, creating a smooth silhouette that looks stylish.
Why is a card holder better than a wallet?
Card holders are slim, compact wallets that are more comfortable for front pocket carry and less cumbersome for the owner. They provide easy access to cards, and won't bulge excessively when filled with loose change.
Additionally, they are made from durable materials and come in a variety of styles and designs, making them a better alternative to traditional wallets.
What is a man's wallet called?
A man's wallet is often referred to as a billfold, porte-monnaie or even just simply a wallet. We will look at the various styles, construction and quality aspects in order to help you make the perfect purchase.
What is the significance of RFID protection in wallets?
RFID-blocking wallets provide an important layer of protection from unauthorized scanning, which can significantly reduce the risk of identity theft.
RFID-blocking wallets are designed to protect against unauthorized scanning of RFID-enabled cards, such as credit cards, debit cards, and driver's licenses. By blocking the signal, the wallet prevents any data from being transmitted.
What are the benefits of slim wallets for minimalists?
Slim wallets offer a low-profile design and organized carrying solution without the bulk, making them perfect for minimalists who value comfort and convenience.
They are lightweight and slim, allowing you to carry only the essentials without feeling weighed down. They also provide easy access to your cards and cash, so you can quickly grab what you need.
The sleek design of slim.
---