Large Capacity Big Wallets for Men's with RFID Blocking Technology
Welcome to the world of men's wallets, where size and functionality meet style and sophistication. A man's fat wallet is a reflection of his personality, and choosing the right high capacity wallet can make all the difference in his everyday life. So why do many men prefer big wallets for men's? Well, the secret lies in their large capacity, stylish design, and unmatched versatility. Ultimately its what is considered a mans wallet.
Think about it: a large wallet, like a trifold mens wallet, can carry everything a man needs, from money to cards, receipts, and even small electronics. It's like a mini organizer that fits right into your pocket. But that's not all. These big wallets for men are also a fashion statement. With various materials and colors to choose from, they can be personalized to match your style. Isn't that amazing?
Short Summary
Large capacity wallets offer men increased space, better organization, enhanced protection, several credit card slot and fashion. 

When selecting a large wallet for men it is important to consider the material, card slots and pockets as well as mens wallet RFID blocking technology offered.

Regular cleaning of your wallet with a cleaner specifically designed for leather followed by saddle soap or leather conditioner is essential to maintain its appearance and quality.
The Appeal of Big Wallets for Men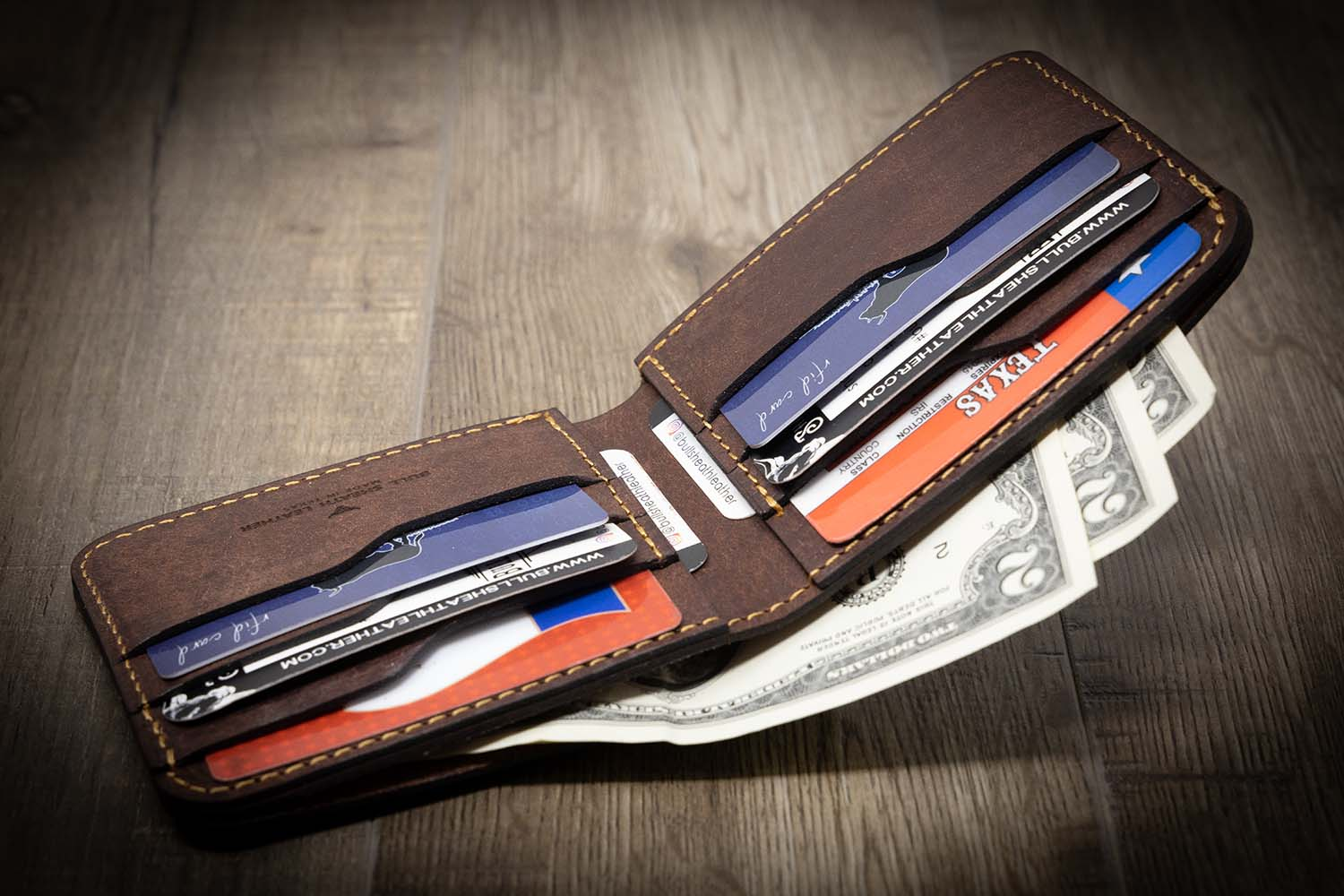 If you've ever wondered why many men prefer large capacity wallets, the answer is simple: they offer more space and better organization. This means that you can carry all your essentials, such as currency, cards, and receipts, without worrying about losing them or damaging them. Additionally, they offer enhanced protection for these items, as they are less likely to be misplaced or damaged.
But it's not just about functionality. These wallets are fashionable and stylish, with a range of colors and materials to choose from. You can even personalize them with initials or other designs to make them uniquely yours. They're not just wallets; they're an extension of your personal style.
Moreover, the versatility of these wallets is unmatched. They can be used to store other items, such as coins, keys, and even small electronics. Plus, many large wallets are RFID protected, ensuring the security of your personal information.
Essential Features of Quality Big Wallets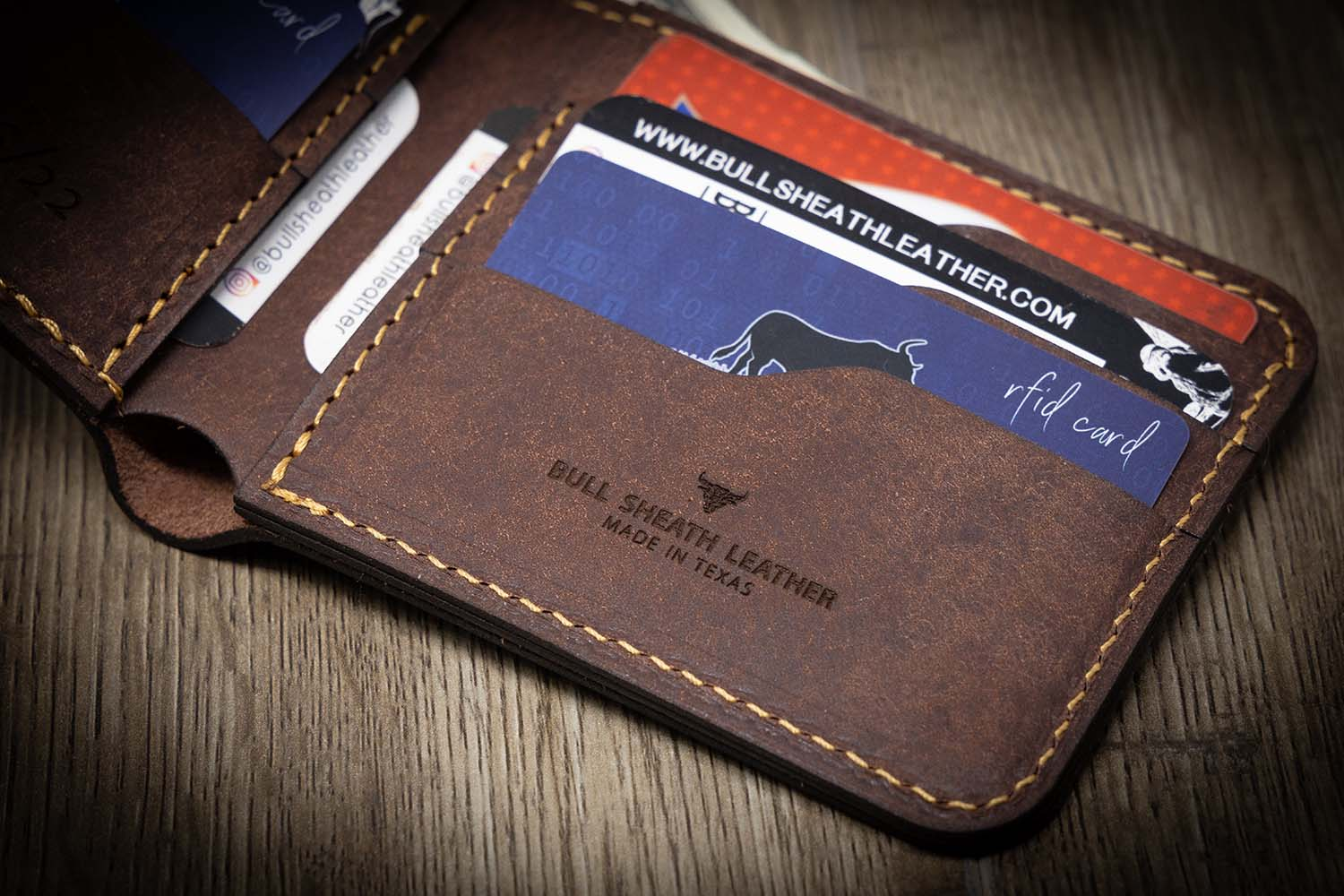 When choosing a big wallet, there are several essential features you need to look for. These include the material it's made from, the number of card slots and pockets it has, and whether it incorporates RFID blocking technology.
But let's dive a bit deeper into these features, shall we?
Genuine Leather
The material of your wallet plays a crucial role in its durability and overall feel. And when it comes to materials, genuine leather stands out as the best choice. Wallets made from genuine leather boast durability, suppleness, and the capacity to withstand regular use. Moreover, they remain fashionable and can endure up to 10 years if crafted from full-grain or top-grain leather.
But it's not just about durability and style. Genuine leather wallets are equipped with RFID blocking technology, thus preventing thieves from using RFID scanners to steal one's personal information. This means that choosing a genuine leather wallet not only ensures a durable and stylish accessory, but also provides an extra layer of protection for your personal information.
Card Slots and ID Window
Another essential feature to look for in a big wallet is the number of card slots and the inclusion of an ID window. These features offer a practical and orderly way to store and access your cards. The ID window, in particular, is beneficial for quick identification without needing to take out the ID from the wallet.
Imagine this: you're at a checkout counter, and you need to show your ID. With an ID window, you don't have to fumble around trying to find your ID. You can easily show it without even taking it out of your wallet. Now, isn't that convenient?
And with enough card slots, you can carry all your credit cards, IDs, and other significant cards without any hassle, even when shipping items.
RFID Blocking Technology
In an increasingly digital world, security is of paramount importance. And when it comes to wallets, RFID blocking technology is a critical feature to consider. This technology prevents unauthorized individuals from scanning your wallet in a public setting and accessing the information on your credit cards.
So, how does it work? Well, RFID blocking material is used to impede thieves from using RFID scanners to steal your personal information from your credit cards. This means that even when you're in a crowded place, you can be confident that your personal information is safe and secure. After all, a wallet should not only store your money and cards, but also protect them.
Top Choices for Big Wallets for Men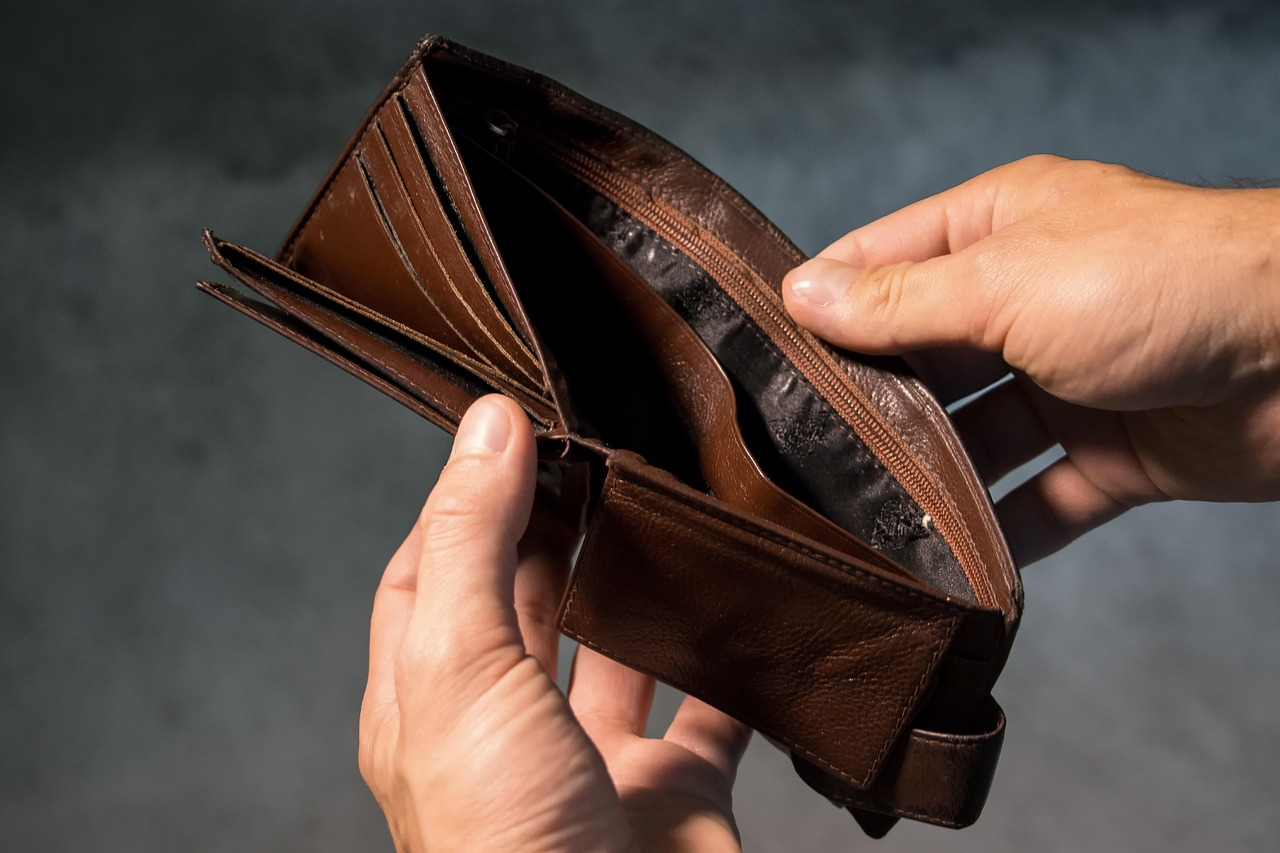 Now that you know the essential features to look for in a big wallet, let's explore the different types of wallets available. Whether you prefer a bifold, trifold, or a long wallet, there's something for every man's style and needs.
Bifold Wallets
Let's start with bifold wallets. These wallets are more compact and slender than other wallet styles, making them a suitable choice for those who wish to carry their wallet in their front or back pocket. They are simple to locate, employ, and maintain, and make an excellent present. After all, who wouldn't want a sleek and stylish wallet that fits perfectly in their pocket?
Bifold wallets typically feature two compartments, one for bills and one for cards, as well as an ID window and multiple card slots. This means that a bifold wallet provides ample storage capacity for cards and cash, making it a practical choice for everyday use.
Trifold Wallets
Next up, we have trifold wallets. These wallets have three sections, providing greater storage capacity than bifold wallets. They offer increased storage capacity for items like cards, coins, and keys due to their three-section configuration. So, if you're someone who needs to carry a lot of bank cards and business cards, a trifold wallet might be the perfect fit for you.
However, it's important to note that trifold wallets may be more cumbersome than bifold wallets. But if you value storage capacity over compactness, then the extra space might be worth it. After all, it's about finding a wallet that meets your personal needs and preferences.  Another variation of a bifold wallet is a vertical wallet, which is taller than a traditional bifold wallet, with more card slots and room for folded cash. 
Long Wallets
Last but not least, we have long wallets. These wallets offer increased storage capacity for currency and small items such as keys and cards. They're also fashionable and up-to-date, making them a popular choice among style-conscious men who want to keep their essentials in stock.
Quality long wallets should be constructed of genuine leather, include card slots and an ID window, and incorporate RFID blocking technology. These features ensure that your wallet is not only stylish, but also durable and secure. So, if you're looking for a wallet that combines style, functionality, and security, a long wallet might be the perfect choice for you.
How to Choose the Perfect Big Wallet
Choosing the perfect big wallet involves more than just picking one that looks good. You need to consider your capacity needs, evaluate the style and design, and consider the price and quality.
But let's break this down a bit further.
Determining Capacity Needs
When choosing a big wallet, one of the first things you need to consider is your capacity needs. This includes the size, material, number of compartments, functionality, and security features such as RFID-blocking technology.
The capacity requirements for a large wallet may vary depending on personal preferences and usage. For example, if you carry a lot of cards, you might need a wallet with multiple card slots. Or, if you prefer to carry cash, you might need a wallet with a larger bill compartment. It's all about finding a wallet that can accommodate your specific needs.
Evaluating Style and Design
Once you've determined your capacity needs, the next step is to evaluate the style and design of the wallet. This involves considering the general aesthetic, along with the hue, texture, and pattern.
When selecting a large wallet, it is imperative to consider personal style and preferences in order to ensure that the wallet is both practical and visually appealing. You could get a boot barn wallet or something made in the USA. After all, your wallet is an extension of your personal style, and choosing one that aligns with your aesthetic will make you feel confident every time you pull it out of your pocket.
Considering Price and Quality
Finally, you need to consider the price and quality of the bull guard wallet. While it might be tempting to go for a cheaper wallet, it's important to remember that quality often comes at a price. When assessing the price and quality of a large wallet, it is essential to consider the quality of the material, the craftsmanship, the design and functionality, the size and capacity, and the reputation of the brand.
Materials of a higher caliber, such as genuine leather, will remain in good condition for a longer period of time and have a more attractive appearance than less expensive materials. Similarly, a wallet that is carefully constructed with meticulous attention to detail will be more resilient and have a longer lifespan than a wallet that is made cheaply.
And a wallet with a carefully designed layout and useful features such as card slots and an ID window will be more convenient and easier to use than one with a substandard design and limited features.
Tips for Maintaining Your Big Wallet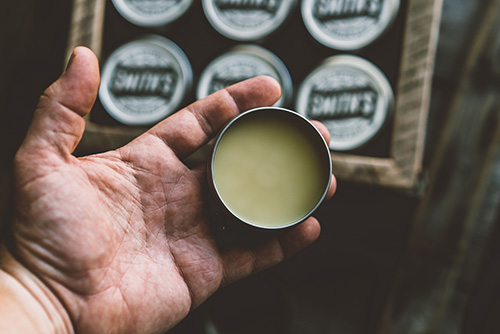 Now that you've chosen the perfect big wallet, let's talk about how to maintain it. After all, a well-maintained wallet not only looks better, but also lasts longer.
Cleaning your wallet regularly is a great way to keep it looking its best. Use a damp cloth.
Cleaning and Conditioning
The first tip for maintaining your big wallet is to clean and condition it regularly. This can be done using a soft cloth and leather cleaner. To clean and condition a large leather wallet, wipe down the exterior with a cleaner specifically designed for leather, then apply a saddle soap or leather cleaner to the dampened leather surface.
A cleaner formulated for leather is suggested. And, to keep the leather from becoming dehydrated, it is suggested to condition it bi-annually. By cleaning and conditioning your wallet regularly, you'll keep it looking and feeling like new.
Storing Your Wallet Properly
Another important tip for maintaining your big wallet is to store it properly. Adequate storage of a large wallet is critical in order to avert harm and sustain the form of the wallet. It is advisable to store a sizeable wallet in a dust bag in order to protect it from scratches and dust. Additionally, it is important to keep it in a secure location, such as a closed cabinet or drawer.
By storing your wallet properly, you not only protect it from damage, but also maintain its shape. After all, a well-shaped wallet is not only more attractive, but also more functional, as it allows you to easily access your cards and cash.
Avoiding Overstuffing
Finally, it's important to avoid overstuffing your big wallet. Overstuffing a large wallet can result in discomfort and pain when seated for extended periods, potentially causing wear and tear on the wallet, leading to breakage or tearing. Furthermore, it can also cause imbalances in posture and weight distribution, which can negatively impact the natural alignment of the spine and potentially lead to musculoskeletal issues.
To prevent this, it is recommended to only carry the necessary items and discard any superfluous items. If you find yourself carrying too many items, you may wish to consider using a smaller wallet. By avoiding overstuffing, you can ensure that your wallet remains in good shape and serves you well for years to come.
Summary
In conclusion, big wallets for men offer a number of benefits, from their large capacity and versatility to their stylish design. They come in a variety of types, including bifold, trifold, and long wallets, each with their own unique features and advantages. When choosing a big wallet, it's important to consider your capacity needs, personal style, and the price and quality of the wallet.
But choosing the perfect wallet is just the first step. To ensure that it lasts for years, you also need to properly maintain it. This includes cleaning and conditioning it regularly, storing it properly, and avoiding overstuffing it. By following these tips, you can ensure that your wallet not only looks great, but also serves its purpose effectively.
Frequently Asked Questions
What is best wallet to hold lots of cards?
For those looking for the best wallet to hold lots of cards, the Ridge Wallet is the top choice for its overall quality, while the Magpul DAKA Everyday Wallet offers great value on a budget.
For those who also need cash storage, Distil Union Wally and Dango T01 Tactical EDC Wallet are both excellent options.
Which company men wallet is best?
For the best wallet in 2023, experts recommend the "Best Wallets for Men," offering an excellent combination of style and functionality.
It features a sleek design, with plenty of pockets and compartments for all your cards, cash, and other items. It also has a secure closure system to keep your items safe and secure. The wallet is made from recycled materials.
Why are Japanese wallets long?
Long wallets are a common sight in Japan due to the country's cash-based society requiring more storage space, as well as the chain attachment favoured by schoolboys and fashionable young men which prevents them from losing or forgetting their wallet.
This chain attachment is a popular accessory among Japanese youth, as it allows them to keep their wallets secure and close to them at all times. It also serves as a fashion statement, as the chain can be customized with different colors and designs.
Why are big wallets for men so popular?
Big wallets for men are popular for their large capacity, stylish design and versatility, making them an ideal choice to store currency, cards, and receipts.
They are a great way to keep all of your important items organized and secure. They come in a variety of sizes, colors, and materials, so you can find the perfect wallet to suit your needs.
Whether you're a beginner, or a professional, you're in the right place.
What are the essential features of a quality big wallet?
A quality big wallet should be made of genuine leather, feature multiple card slots and an ID window, and have RFID blocking technology for added security.
Check out these Blog Posts!
---